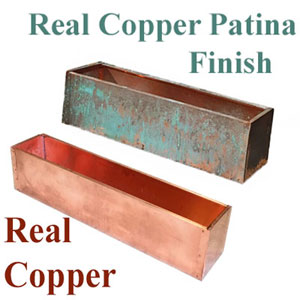 Real Copper Window Box Liners
At Flower Window Boxes we offer a selection of real copper window box liners in various lengths ranging from 21.5" - 69.5" long. These copper liners are fixed at 8" tall and 7.25" wide (front to back), however we can do custom lengths up to 120" length. They will naturally patina over time when outdoors due to rain and weathering, however we do offer to make them with an acid wash applied to patina them before they leave our shop. All real copper liners are made from 24-Gauge (.020" thick) copper. These copper planter liners are designed to fit inside of all of our wrought iron window boxes which come in all lengths to fit your window.

In addition to real copper liners with an acid wash patina finish, we also offer a line of copper patina painted PVC liners painted with a special copper coating that is acid washed to mimic the look of real copper. Those liners can be custom made in all three dimensions (length, width, and height). We also have flower box liners made from white PVC if copper is not for you.