Deck Rail Planters
Flower Window Boxes is a manufacturer direct of deck railing planters and flower boxes. All of our window boxes can be attached to decks, porch railings, and balconies with our steel hooks and we can even make custom hooks to fit your needs. In addition to our custom deck railing window boxes, we also feature a line of wall mounted window boxes and freestanding porch planters. Our PVC planters are available in many styles and sizes as well as custom sizes to meet your needs. Please call us if you have questions or need a free quote on a custom deck rail planter or deck rail hooks.

"Better than wood concept"

Never rots, plant directly in box - LIFETIME Guaranteed
Looks like wood, not shiny plastic
Can be painted to match rails or left unpainted (comes in white)
Custom lengths up to 16 feet
Can accommodate almost any rails - wood, vinyl, metal, composites
Solid material never warps or cracks during winter freezes
Our window boxes have been featured on The Today Show as "the last window boxes you will ever buy."

DIAGRAM OF POSSIBLE RAILING SCENARIOS - FENCE HOOKS VS DECK HOOKS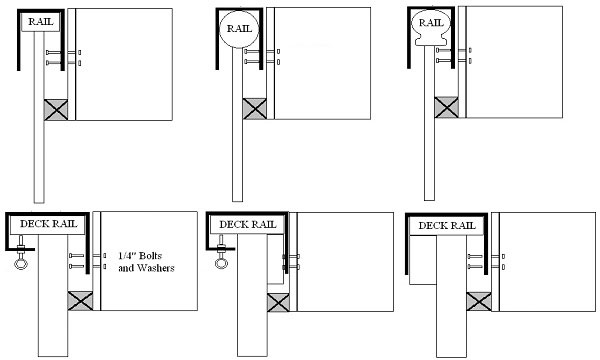 * The small square with an X in it is an offset strip to keep the box from tilting forward. We provide one for you which will accommodate most cases.
Balcony Rail Planters
Our balcony rail planters are a great fit for transforming a balcony into a garden paradise. The metal brackets simply bolt into the back of our boxes and allow the boxes to easily fit over railings from 1.5" wide up to 3.5" wide. Custom width railings can be accommodated upon request. For more information about how you can make over your balcony rails please give us a call today.