Wrought Iron and Aluminum Window Boxes
All of our ornamental metal window boxes are framed in steel for maximum strength. Depending on the style, the decorative work is either wrought iron or aluminum. We have many styles to choose from and they are available in any custom length to fit your window. Handcrafted custom iron window boxes are individually made and generally take approximately 2 weeks to ship out.
Our wrought iron window boxes made from cast metal and welded steel also feature cellular PVC liner options, aluminum metal liners with different color options, and self watering options on the inside to help water your plants and flowers.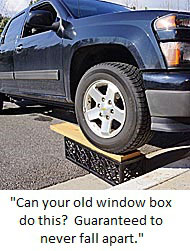 Each of our wrought iron and aluminum window boxes are painted with a professional black scratch resistant powder coat finish so that your boxes last. Please feel free to email us at sales@flowerwindowboxes.com or call us Toll Free at 888.505.7715 if you have any more questions. Liners sold separately, click on pictures and sizes to see liner pricing for each size.