Wrought Iron Window Boxes
At Flower Window BoxesTM our wrought iron window boxes are guaranteed to be the strongest in the industry. Many of our competitors use thinner metals that easily bend, twist, or break. However, our metal window boxes are manufactured from laser cut steel for maximum strength. We have many styles to choose from and they are available in over a dozen sizes and in any custom length to fit your window. Our wrought iron window box cages are also available with our patented self-watering reservoir option that cuts down on your watering frequency by a factor of three fold and make them have less maintenance.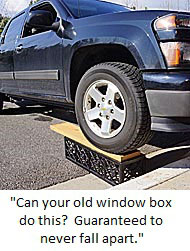 Custom Wrought Iron Window Boxes
Each wrought iron flower box is handcrafted individually and made to order with the highest quality. We have over a dozen sizes available for each design ranging from 24" all the way up to 108" long. However, we can custom make our wrought iron window boxes to the nearest inch to perfectly fit any window. Give us a call to learn more about how to customize your order. PEAK SEASON: Please allow approximately 1-1.5 weeks to ship out (These are Built to Order by Craftsman

European Wrought Iron Window Box Cages
Our wrought iron window box cages are inspired by the famous window boxes of Europe. When you walk through any town in Europe, its outstanding feature is its window boxes. Given that many European homes have little space for gardens, they make maximum use of window boxes. Their window boxes are abounding with color, texture, and vibrancy. From the ornate and elaborate window boxes of Germany to the rustic and natural boxes of Italy, our European style window boxes are available in various styles, shapes, and materials. Each of our metal European window box cages are painted with a professional black scratch resistant powder coat finish so that your boxes last. Please feel free to email us at sales@flowerwindowboxes.com or call us Toll Free at 888.505.7715 if you have any more questions or if you need a custom quote on our flower boxes and planters.


Liners for Wrought Iron Window Boxes
Liners are sold as an option for each box and you can click on any wrought iron window box product above to see those options and pricing. The prices and liners are listed for each cage by clicking on the design and then clicking on the specific size window box. You can also buy window box liners separately if you previously purchased one of our window box cages without the liner. Our metal window boxes made from steel feature seven different plant liner options to choose from:
* Architectural grade PVC liners (heavy duty solid PVC can be painted or left in white). These liners are also available in a painted copper patina.
* Silver, brown, and copper toned aluminum liners give a metallic look
* Real copper liners (will patina green over time) and in acid wash copper(comes pre-patina finish!)
* Self watering reservoir option available with each liner option