Modern Window Boxes – PVC, No-Rot, & Self-Watering Window Box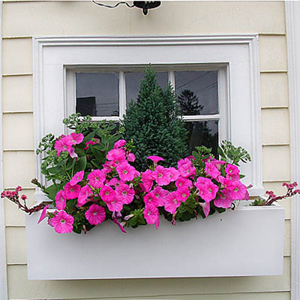 The Flower Window BoxesTM brand no rot Modern window box is designed for those who want clean, simple lines to match their architecture. The many great features of these contemporary window boxes include:


Standard size and XL Size available
100% moisture and ROT FREE
Looks like wood not plastic
Plant directly in the box
Can be painted to match home trim, shutters, or siding (comes in white)
Optional decorative brackets
Optional self-watering reservoirs
Solid material construction does not warp or crack during winter freezes
PEAK SEASON: SHIPS FULLY ASSEMBLED in 2-3 business days (not a kit). These are built to order by professional carpenters.
Featured on The Today Show as: "The last window boxes you will ever have to buy!"

Looking for modern planters to add character to your home? The white Modern window box features simple and clean lines, putting more emphasis on the plants and flowers. Our PVC planter boxes are made to look like real wood, but unlike real wood, our boxes will not rot or warp since they are impervious to water. These planters come in a beautiful white color but can be painted to match the outside of your home. Our flower boxes have been featured on "The Today Show," HGTV, and "Ask This Old House."
Each window box is handmade in the USA and custom made to order. We offer multiple sizes, or you can choose a custom length that fits your home perfectly. We can add a self-watering reservoir system so you don't have to spend as much time watering your window boxes. This is super convenient if you live a busy lifestyle and need to save time.
Our window flower boxes ship fully assembled, so you don't have to put the planter together. Once you receive your planter box, you can begin planting flowers directly into the box — no other materials are needed. Flower Window Boxes offers quality products at manufacturer-direct pricing. We provide a lifetime warranty on all of our window boxes. If you have any questions, please email or call us and we will be happy to assist!