Farmhouse PVC & Cedar Window Boxes – No-Rot & Self-Watering Window Box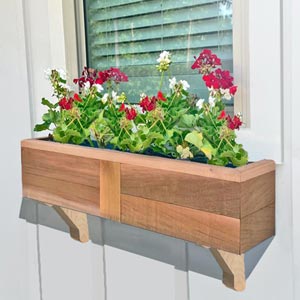 The Flower Window Boxes (TM) brand farmhouse cedar window boxes are made from a revolutionary technique that combines beautiful red western cedar reinforced with a 5/8" architectural grade solid PVC inner core making it the ultimate cedar window box solution. The solid PVC construction interior is rot proof, insect proof, impervious to water, and lifetime guaranteed against rot and construction failure. The cedar portion is constructed on the outside and is never in contact with standing water and soil while planting in the box giving it superior strength. Lastly, our patented self-watering option is also available which cuts your watering frequency 3x fold.

The average cedar window box out there is not protected against the elements in the long run. Despite red western cedars reputation for resistance to bugs, direct contact of cedar and soil can speed up the rotting process causing them to rot in as little as a few year! Our solution to this is simple - a red western cedar window box reinforced on the inside with a solid, rot proof PVC core that holds all the soil, plants, and water. Now you can truly have rustic farmhouse flower boxes that last! We have dozens of sizes to choose from and can even give you a free quote to make custom sizes up to 16 feet long.

"The Only Lifetime Construction Guaranteed Cedar Window Box on the Market!"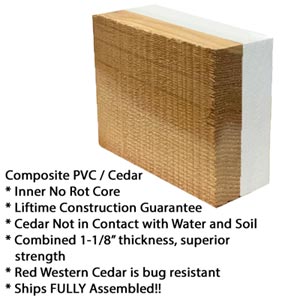 Composite PVC / cedar window boxes offer many other advantages. The added thickness and the composite nature of these window planters gives them superior strength and allowing us to back our boxes with a LIFETIME guarantee on the construction. Boxes come in unfinished red western cedar ready to be stained, sealed, or painted to match your home. However, you can also leave the boxes unfinished and they will age to a natural farmhouse grey look over time.

All planters are made in the USA.

PEAK Season: All PVC / cedar window boxes are built to order by carpenters and ship FULLY ASSEMBLED in approximately 2-3 business days.

Our Farmhouse window boxes are made from a combination of western red cedar that is reinforced with ⅝" architectural-grade PVC. The solid PVC core is impervious to water and therefore lifetime guaranteed against rotting and construction failure. The cedar is constructed on the exterior of the planter box and never makes contact with standing water or soil. Our revolutionary design means our wooden window boxes will actually last and you can finally achieve the modern farmhouse style of your dreams.
Our cedar and PVC window boxes come in a variety of sizes, or you can select a custom length up to 16 feet. Each box is handcrafted and custom made to order by a professional carpenter. We can add a self-watering system so you don't have to hand water every week. Our cedar window boxes ship fully assembled and are ready to be stained, sealed, or painted. If you want to achieve a rustic farmhouse look, you can leave the planters unfinished and the wood will age naturally to a gray color. Plant directly into the box and watch your flowers flourish.
This is the only lifetime-construction-guaranteed cedar window box on the market. We have been featured on HGTV, "Ask This Old House," and "The Today Show" as "the last window boxes you will ever have to buy." We are committed to producing quality products at fair prices, which is why we offer manufacturer-direct pricing and a lifetime warranty.