Decorative Cedar Gable Brackets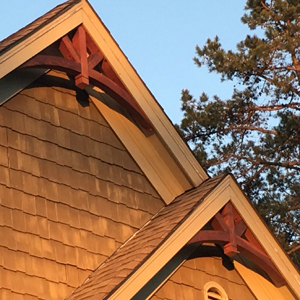 Our decorative cedar gables and architectural gable brackets are designed to accommodate virtually any pitch. We list four of the more common roof pitches, however, we can fabricate to virtually any pitch based on your specific needs. All roof pitches are listed as rise/run for clarity. Only two variables are needed to determine the full specifications of any of our pitches: length and pitch. From there the height is determined mathematically. If you prefer to provide us with the height and pitch instead, we can calculate the length for you based on your specifications. To request a quote on a custom decorative wood trusses please fill out our quote request form.

Cedar Gable Decorations are a great way to accent roof pitches and are extremely popular in Craftsman style homes and Victorian style homes. Gable designs are sometimes referred to as a gable pediments or decorative gable trusses. These faux arches made of solid cedar beams are a great way to add decor to your home. Click the Downloadable Pitch Template and print in landscape mode as a .PDF. Hold the template up to your gable roof line to ballpark the size of your pitch.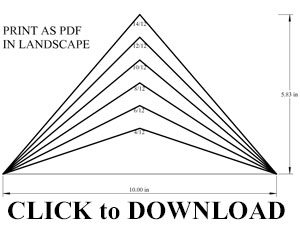 If it does not EXACTLY match one of the listed pitches then give us a call or consult with a local handyman or contractor. For a more accurate measurement you can use a plumb bob and level. Hang a plumb bob 24" and mark the string at 24" with a marker. 24" is the RISE. Measure across with a level and tape measure to get the RUN. Divide RISE/RUN and multiply by 12 to get the pitch. Printable Roof Pitch Chart and How to Measure Pitch of Roof

We Do Custom Decorative Gable Brackets - Custom Pitches and Designs!
Cedar gable brackets are sometimes referred to as gable pediments