Decorative Cedar Gables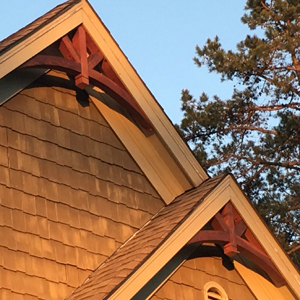 Our decorative cedar gables and architectural gable accents are designed to accommodate virtually any pitch. We list four of the more common roof pitches, however, we can fabricate to virtually any pitch based on your specific needs. All roof pitches are listed as rise/run for clarity. Only two variables are needed to determine the full specifications of any of our pitches: length and pitch. From there the height is determined mathematically. If you prefer to provide us with the height and pitch instead, we can calculate the length for you based on your specifications. To request a quote on a custom decorative gable please fill out our quote request form.

Architectural wood gables are a great way to accent roof pitches and are extremely popular in Craftman style homes and Victorian style homes.

We Do Custom Decorative Gables - Custom Pitches!!