Rail Top Planters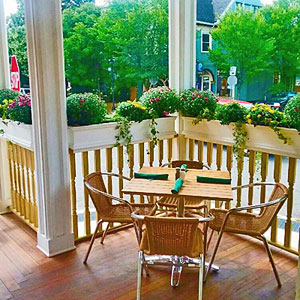 Whether you're an avid gardener needing extra gardening space, or simply a flower enthusiast looking for beautiful outdoor decoration, our
rail top planter boxes
are one of the best ways to get started! As lovely as they are practical,
flower boxes on top of railings
can add privacy, curb appeal, and extra greenery to your deck.
Our
Flower Window BoxesTM
brand
rail top planters
are no exception. All of our railing planter boxes have a lifetime guarantee and are made of a solid, no-rot PVC material called Versatex. Its unique composition ensures it will never distort, crack, or fade, and each box comes in a bright white color that is paintable to match your home. While other boxes are made of hollow, shiny materials that rot easily, peel paint, and barely outlast their flowers, our
deck railing planters
can withstand years of use and still look brand new. Shop with us and get only the best for your home!
Rail Top Planters are Perfect for Privacy
Rather than hanging over your railing like our
hanging railing planters
, our rail top planters
straddle
the top of standard 2x4 and 2x6 rails with screws and can be easily removed. Because they sit on top of the railing, they are one of the best ways to create privacy from your neighbors. They come in a variety of sizes, with lengths ranging from 24 inches to 72 inches so you can choose your perfect fit. If these size options still don't match you requirements we can manufacture rail top planters to your custom specifications! We have two designs to choose from below, the Charleston and the Modern, however we can make any of our
window box
designs into a rail top planter. Additionally, all of our rail top flower boxes offer our patented water reservoir system that transforms your planter box into a self-watering one that requires 3-5 time less watering. Shop
Flower Window BoxesTM
today for your deck's new best friend!