Premium Cedar Exterior Shutters

Flower Window Boxes, Inc. is a custom woodworking manufacturer specializing in
premium cedar exterior shutters
and other cedar curb appeal accents such as
decorative gables
,
cedar brackets
,
corbels
,
mantel beams
, and more. Board-and-batten
cedar wood shutters
are great for adding a modern farmhouse look. They come with either two or three battens (the horizontal wood crossbars) and also have a Z-batten option as well (the diagonal wood crossbar). We can make our
outdoor cedar shutters
in a smooth-sawn finish that is sanded down or a rough-sawn finish for a more rustic look and feel. Additionally, an arched radius can be added to the top of the shutter to match rounded windows. We also make custom cedar shutters as well so give us a call at 888-505-7715 or email us at sales@flowerwindowboxes.com to learn more.
The Advantages of Cedar Shutters
Our window shutters made from red western cedar are more dimensionally stable, resisting warping and twists in the wood and make it less likely that your window shutters will change shape as the weather changes over time. The natural oils of red western cedar wood prevent bugs and pest infestation, deter decay, and deter moisture to prevent damage to your shutters throughout the year. Red western cedar is also one of the most beautiful woods coming in many beautiful colors and hues. A typical wooden shutter made from pine is less expensive but will often have a shorter lifespan and need to be replaced quicker resulting in more cost and work in the long run. We pride ourselves in our superior construction of our
cedar shutters
which uses 1" boards and tongue-and-groove joinery, making them stronger and a great investment that will last much longer. Other companies use 5/8" and 3/4" boards with other types of wood that can easily twist, rot, warp, and shorten the lifespan of the shutter.
Installing our Cedar Wood Window Shutters
Our cedar shutters can be installed two different ways. The use of New York style shutter hinges can be used to give them a more enhanced look or you can use our direct mount screw and cedar plug kits to fasten the shutters directly to the outside of your home. Click if you'd like to watch a video and read up on how to install our exterior shutters.

Custom Cedar Shutters
At Flower Window Boxes, Inc. we are able to custom make our cedar shutters in various sizes to fit most windows. Each of our cedar shutters are crafted by professional carpenters and made to order and considered a custom, non-returnable item. For this reason we will gladly send you a small square corner sample of a chopped up shutter for free upon request so that you can touch and see the quality of the material in person prior to placing your order. You can also order a small returnable sample shutter if you want to see an actual shutter in person. They come in two fixed widths of 16" and 21" wide and are available in heights up to 96" tall.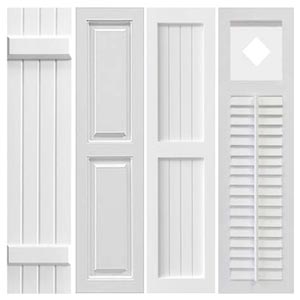 Our cedar shutters all come unfinished in their natural wood, but if you prefer a more modern look, they can be painted, sealed, or stained upon receipt by the customer. We actually recommend a finish to prolong the life of the shutters, however, if you leave them unfinished, they are more prone to age to a rustic farmhouse-gray color over time. We also offer a line of composite
PVC exterior shutters
which we call Forever Shutters that are 100% lifetime guaranteed and have the complete look of wood if you are interested in a low maintenance lifetime solution.


Custom cedar shutters
not listed online so give us a call, email us at
sales@flowerwindowboxes.com
, or click
here
to fill out an online form to get a free quote today.

More Resources:

Pros and Cons of Cedar and PVC Exterior Shutters