Deck Railing Planters
Flower Window Boxes TM is a manufacturer direct of deck rail planters and flower boxes for porch and balcony railings. All of our railing planters can be attached to decks, porches and balconies with our durable steel hooks. We can also make custom deck rail hooks to fit your needs. We offer three types of planters for your decks and porches to choose from to accommodate almost any exterior design:
* Over the railing planters that hang over rails and add curb appeal
* Rail top planters that sit atop rails and create more privacy
* Freestanding porch, patio, and deck planters that sit on the ground and create boundaries or gardening spaces
* PEAK SEASON: SHIPS FULLY ASSEMBLED in 4-6 business days (not a kit). These are built to order by professional carpenters.

Flower Boxes for Railings
Our
flower boxes for railings
come in two designs, the Charleston and the Modern, however, any of our models can be used for hanging over rails, and each one features a patented self-watering reservoir option that helps reduce your watering maintenance. These planter boxes can hang on rails made from a variety of materials and sizes including wood, metal, vinyl, fiberglass, and composite using the various rail hooks on our website. We offer eight different sized hook attachments to handle 99 percent of the types of deck rails out there. Check out our diagrams at the bottom of this page to help you decide which
flower box hook
may make the most sense for your
railing planters
. For
rail planters
that sit atop porch or deck rails, our rail-top planter line will accommodate flat rail tops using standard 2x4 and 2x6 wood beams. However, we sometimes get custom requests for sitting our flower boxes on non-standard rails, and on many occasions we have custom made our rail-top planters for unique customer applications. Custom rail planters is one thing we thrive at. Give us a call today at 888-505-7715 and talk to one of our specialists and we will help you design and measure for your project!?

Hooks for Railing Flower Boxes
For any of our hanging rail flower boxes we have a wide variety of hooks that will work. Our 2x4, 2x6, and 2x8 deck rail hooks will fit snug over wooden deck rails using standard dimensional lumber in those sizes. Our 1.5" - 3.5" universal rails hooks can be used to slip over a variety of non-standard rails such as curved, vinyl, metal, and composite rails and fences. The metal brackets simply bolt into the back of our boxes and allow the boxes to easily fit over railings from 1.5" wide up to 3.5" wide. Custom width railings can be accommodated upon request.

DIAGRAM OF POSSIBLE RAILING SCENARIOS - RAILING HOOKS FOR FLOWER BOXES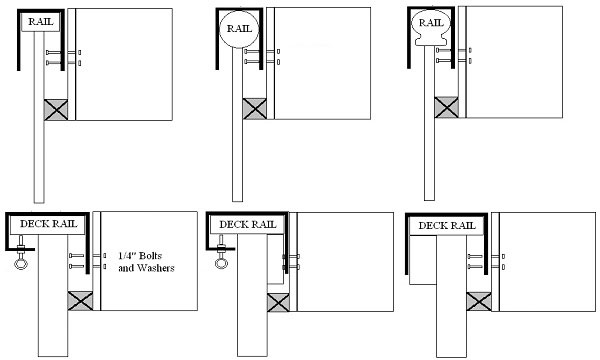 * The small square with an X in it is an offset strip to keep the box from tilting forward. We provide one for you which will accommodate most cases.
Deck Planters
Sometimes it will make more sense to put a planter on a railing and sometimes it will make more sense to place them on the ground. It all depends on your space and how you want to use it. Railing planters are great for beginners who want to do a small project that enhances the look of the rail or creates privacy from a neighbors view. Freestanding planters tend to make sense for larger projects or when using railings blocks a needed view. Our freestanding deck planters come in over 100 styles and sizes so you can fit almost any space. You can also customize our white deck planters to fit your situation such as on a front porch between columns or on the edge of a patio where you need a defined boundary. Deck planters are great for transforming your space into a garden paradise. For more information about how you can beautify your deck please give us a call today.

More Resources:
How to Start a Balcony Garden
Rail Planters Create Privacy for your Deck