Cutout Exterior Shutters
Composite PVC Shutters with Cutouts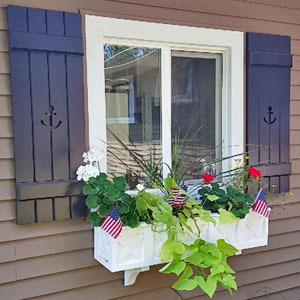 At Flower Window Boxes, we are able to do cutout exterior shutters in our Forever Shutters line. Cutouts can be done in the raised panel, board and batten, and louver shutter styles. We have 16 designs to choose from but routinely do custom designs as well and can match a drawing, picture, or existing shutter. Also, we can center the design or do custom placement above center, on center, or below center. For assymetrical designs we will mirror image them for the left and right shutter to give a custom touch. The best part is that we are streamlined to make these fast with them usually shipping in 1-2 weeks from the time the order is placed. All of our composite PVC shutters are affordable and there are no up charges for doing custom cutout designs. Plus, for all of our custom shutters we will work up and email you a scaled drawing for your approval so you can even make fine adjustments to have confidence that you are getting exactly what you hope for.

We can also paint the shutters in our shop prior to sending them out to you. Painting does extend lead time to 3-4 weeks to build, paint, and ship out of our shop.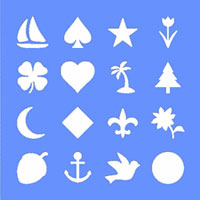 We have 20 different paint colors to choose from all in Sherwin Williams DTM exterior latex paint. We will consider doing custom paint colors as long as they are with Sherwin-Williams (there is a 5 pair minimum requirement and the customer must provide us with the specs on the formula which they can get from Sherwin Williams or by checking the label on an existing paint can). Our composite PVC exterior shutters are lifetime guaranteed against rotting and they can be screwed directly to the house or hinged using our 5-point installation technique.