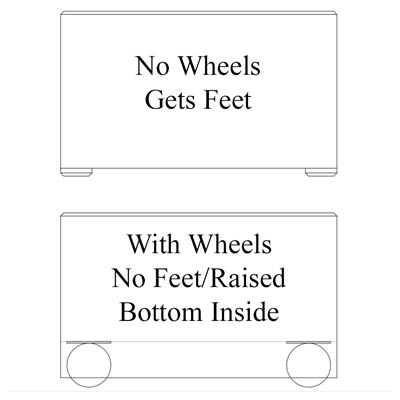 Planters on Wheels
Self-Watering PVC Planters that can Move
All of our planters are available with wheels or without wheels. When wheels are present we do not use feet on the bottom of the planter. Instead we remove the feet and raise the inside of the bottom up a few inches to conceal the caster wheels that are installed. When we do this the planter will appear to "float" about 1/2" clearance off the ground and the wheel will be hidden from view inside the planter.

To view pricing on any of our planters with caster wheels, simply click on the design you want below and then click the size you are interested in. When you are on one of the pages dedicated to one of the specific sizes then you'll be able to add the wheels to the planter as one of the available options that will appear on the next page. We can also make custom sized planters with wheels as well. If you do not see the exact size you are looking for then just give us a call to get a free quote at 888-505-7715 or email us the sizes and quantities and design you want to

sales@flowerwindowboxes.com

.