PVC Exterior Shutters | Forever Shutters TM
Our premium non-wood
composite PVC exterior shutters
are made from stainless steel reinforced cellular PVC material called Versatex that unlike wood and other wood composites will not rot, split, deteriorate, or warp. Our
PVC exterior shutters
have a matte finish texture that captures the complete look of fine wood and can be painted any color to perfectly match your home. Unlike vinyl they can be hinged using our installation method or directly screwed to the house depending on your preference. They are the perfect shutter material for customers who have had wood shutters before that rotted and want to replace them, but they don't want to do wood again or get cheap vinyl shutters. We call our premium PVC exterior shutter line
Forever Shutters TM
and back them with a lifetime guarantee! Exclusively available here at FlowerWindowBoxes.com. Our
wood look shutters
are
"better than vinyl, wood, and wood composites!"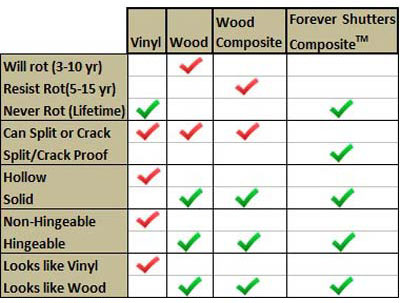 Our Forever Shutters line is unique in that we are the only company to use stainless steel reinforcement to guarantee the strength and rigidity of our PVC shutters under all environmental conditions. This strength and rigidity allows you to paint your shutters any color as well without fear of warping or twisting. Because other companies don't do this, they cannot back their shutters with the same lifetime guarantee. Our
composite exterior shutters
are made of solid cellular PVC which means they are not hollow, like vinyl shutters, and they will not split or crack like cheaper plastic materials. Because our exterior window shutters are solid, they can be placed on hinges to give the look of functional and operable shutters, however, our shutters are designed to remain open at all times. We do offer
20 different shutter color options
for our
PVC window shutters
. We have over two dozen shutter designs to choose from and they can all be customized in widths ranging from 10"-22" and heights up to 95" tall.
Custom Exterior Shutters
Currently we are in our peak season and our lead time for all of our standard and
custom exterior shutter
orders is
approximately 2-3 weeks to ship unpainted (painted shutters ship in approximately 3-4 weeks)
. All orders ship from our North Georgia based manufacturing plant just outside of Atlanta. Click for more information about
custom exterior shutters
or call us at Toll Free at 888-505-7715 to get a free same day quote. If you need help with sizing your shutters, you can read our guidelines on
how to measure your windows for outdoor shutters
. All composite PVC shutters are made to order and considered custom and non-returnable. We'll gladly send
you a small square sample of the material via mail that you can keep for free or you can purchase a small, returnable sample shutter for $39 if you prefer to see an actual shutter in person prior to placing a big order. Versatex is a solid, architectural grade cellular PVC material much like AZEK with superior performance over vinyl. Come check out what makes our shutters the best no-rot wood look shutter on the market today!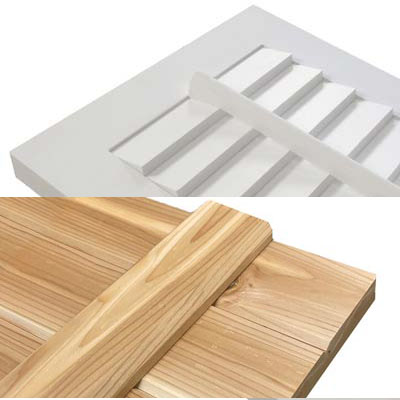 Cedar and PVC Exterior Shutters
In addition to our PVC exterior shutter line, we have also introduced a premium cedar exterior shutter product line as well available in farmhouse style wooden board and batten designs. We also offer PVC exterior shutters with cutouts in 20 different shapes and we can do custom cutouts to match any vector art picture on the web. Shop our top of the line exterior shutters today and find out what makes Forever Shutters (TM) your number one trust brand for shutters that last a lifetime. Flower Window Boxes, Inc. is your trusted source for window boxes and exterior shutters!

Exterior Shutter Hardware
Our exterior shutters can be installed directly to the outside of the home's brick or siding using our direct mount screw kits. Unlike vinyl shutters, our premium PVC shutters is one of the best shutter materials on the market. They are made of solid material and can be attached to a homes exterior with hinges. We offer our hinges in both steel and stainless steel options for less maintenance. Visit our shutter hardware page for more information about our hinges.

More Resources:
Pros and Cons of Cedar and PVC Exterior Shutters
Caring for Exterior Shutters: Tips for Proper Maintenance