Modern Outdoor Planters - Rectangular PVC Planters
At
Flower Window BoxesTM
we specialize in
modern rectangular planters
made from PVC in various lengths (
scroll down to see over 50 standard sizes
)! These simple, clean look planters are made from a high end plastic called Versatex which never rots and is backed with a lifetime warranty. Each planter box comes in white but can be painted any color to match your home with an exterior latex paint. They can be planted directly into and a self watering option is available that greatly reduces your watering frequency. In addition to various available and custom lengths, our
modern planter boxes
come in seven different height and width combinations depending on your needs whether it be residential or commercial. This means you can get low and long planters or taller and skinnier planters to fit your space perfectly. We can also make them in square and wide shapes as well and thrive on custom sizing so that you can fill your space perfectly. Great for decks, patios, rooftop gardens, business fronts, entrances, porches, retail stores, hotels, and more! Plus, our patented self-watering reservoirs can be added as an option to any of our flower boxes to turn them into
self-watering modern planters
.
White Rectangular Modern Planters made from PVC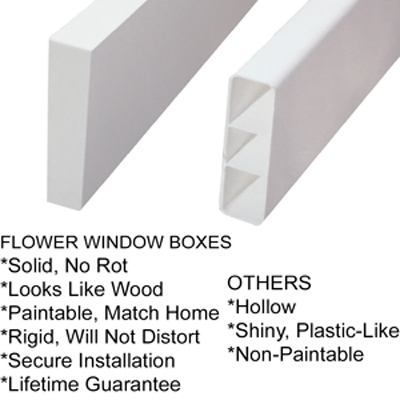 Flower Window Boxes is proud to offer American-made,
modern outdoor planters
for your gardening enjoyment. Our modern planters are each built by professional carpenters in house using a revolutionary material that has the look and qualities of wood but without the hassle of rot. Other companies make their planters with cheaper plastics or vinyl which can warp and break down because they're completely hollow inside. If you take a look at these modern rectangular planters, their construction is entirely solid. This simple detail makes the planters last for many years. The best part is that they ship fully assembled to you and are ready to plant as soon as they arrive!
The elegant base design of these
large modern outdoor planters
is both aesthetically pleasing and functional. Four corner feet hold these modern white outdoor planters slightly off the ground so that drainage is possible. However, each one is available with castor wheels for rolling as an option and if you choose this option the feet are omitted making it look as though they are flush with the ground. With only a few millimeters of clearance from the ground, you don't lose any gardening space within the planter either. Pull out your favorite paint so that you can match the planter with the exterior decor. The matte finish texture gives the look of wood and makes painting easy as the paint easily grabs the material. The smooth texture makes it easy to paint. Accent your entire property with these planters that shine with beauty year-round. Browse our selection of modern freestanding outdoor planters and select from different height, width and length options to match specific types of plants and trees. We also have a huge selection of
outdoor planters
and
window boxes
to choose from.
Modern Planter Box Sizes
Long Rectangular Modern Planters
: 10" High x 10" Wide x Any Length, 12" H x 12" W x Any Length
Tall and Narrow Modern Planters
:18" H x 12" W x Any Length, 24"H x 15"W x Any Length
Medium Sized
: 18"H x 18"W x Any Length, 22"H x 22"W x Any Length
Extra Large Modern Planters
: 30"H x 18"W x Any Length, 36 square x 24"High, 42 square x 30"High
Custom Sizes
: All Heights x All Widths x All Lengths are available - Email us at sales@flowerwindowboxes.com or call us at 888-505-7715 for a free same day quote!