Farmhouse Cedar Planters (PVC Composite)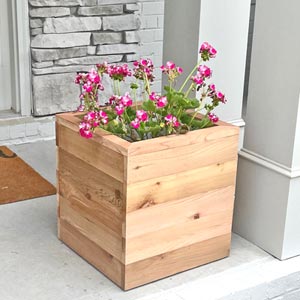 The Flower Window Boxes (TM) brand farmhouse cedar planters are made from a revolutionary technique that combines beautiful red western cedar reinforced with a 5/8" architectural grade solid PVC inner core making it the ultimate cedar planter box solution. The solid PVC construction interior is rot proof, insect proof, impervious to water, and lifetime guaranteed against rot and construction failure. The cedar portion is constructed on the outside and is never in contact with standing water and soil while planting in the box making our construction superior to all the competition. A patented self-watering option is also available making these high end cedar planters have even lower maintenance.

Competitors cedar planters are not protected against the elements in the long run. Despite red western cedars reputation for resistance to bugs, direct contact of cedar and soil can speed up the rotting process causing competitors cedar planters to fall apart or show signs of rot in as little as a year! Only Flower Window Boxes (TM) offers a unique and superior solution - a red western cedar planter reinforced on the inside with a solid, rot proof PVC core that holds all the soil, plants, and water. Now you can truly have rustic farmhouse planters that last a lifetime!

"The Only Lifetime Construction Guaranteed Cedar Planters on the Market!"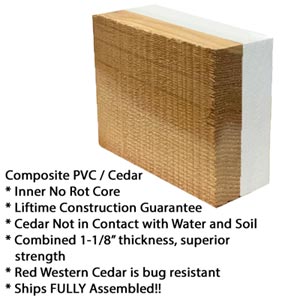 Composite PVC / Cedar Planters offer many other advantages. The added thickness and the composite nature of the boxes gives them superior strength allowing us the only LIFETIME guarantee on the construction of our planter boxes. Your planter will never fall apart or we will replace it for free! No other company can match that guarantee! Flower Window Boxes (TM) is a family owned, American based business. All planters are made in the USA. Boxes come in unfinished red western cedar ready to be stained, sealed, or painted to match your home. Staining or sealing is recommended to prolong the beauty of the natural cedar or you can leave unfinished and your cedar will age naturally to a more rustic look. PEAK Season: All PVC/Cedar planters are built to order by carpenters and ship FULLY ASSEMBLED in approximately 2-3 business days.