Composite PVC Cedar Planters
Our composite PVC cedar planters and cedar window boxes are made from a revolutionary technique that combines beautiful western red cedar wood reinforced with a 5/8" architectural-grade, solid-PVC inner core, making it the ultimate cedar planter box solution. The solid PVC construction interior is rot-proof, insect-proof, impervious to water, and lifetime guaranteed against rot and construction failure. The cedar portion is wrapped on the outside and is never in contact with standing water and soil in the box, which helps maximize the life of the cedar wood.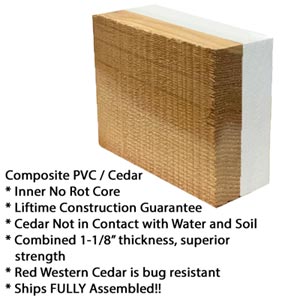 Most cedar planters out there are not protected against natural elements in the environment in the long run. Western red cedar has a reputation for resistance to bugs and decay, however, direct contact of cedar and soil can speed up the rotting process, causing other competitors' cedar planters to fall apart or show signs of rot in as little as a few years! Our PVC core completely solves this issue. Now you can truly have rustic farmhouse planters that last a lifetime! PEAK SEASON: All PVC / Cedar planters are built to order by carpenters and ship FULLY ASSEMBLED in approximately 2 weeks!
"The Only Lifetime Construction Guaranteed Cedar Planters on the Market!"

Custom Cedar Planters
All of planters are also made in the USA by American workers. We have dozens of sizes to choose from, and we can even give you a
free quote
to make custom sizes up to 16 feet long.
Custom cedar planters
can be customized in almost any length, height, or width to fit any space, including decks, porches, and patios. Our custom wood planter boxes are made to order but ship extremely fast.
Large Rectangular Cedar Planter Boxes

We offer our
farmhouse cedar planters in over a dozen long, rectangular, oblong, and trough shaped sizes. Our large rectangular cedar planters are built by professional carpenters and ship fully assembled which means they come out the box ready to plant! Our construction technique is also second to none and superior to our competitors who often sell their flower boxes as kits you have to assemble. Our long cedar planters made with composite PVC offer many other advantages as well. The additional thickness and the composite nature of the boxes enhances the cedar wood's strength, allowing us to give you a LIFETIME guarantee on the construction of our planter boxes. Your planter will never fall apart or we will replace it for free! Other competitors in the industry cannot match that guarantee! Flower boxes come in unfinished western red cedar ready to be stained, sealed, or painted to match your home style. Staining or sealing is highly recommended to prolong the beauty of the natural cedar, or you can leave it unfinished to have a more rustic look as your cedar wood ages naturally. A patented self-watering planter option is also available to reduce the watering frequency three-fold!