Self Watering PVC Planters - Large Rectangular Outdoor Planter Boxes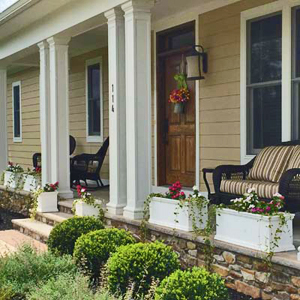 FlowerWindowBoxes.com is a leading manufacturer and online retailer of large no rot planter boxes for outdoor use. Our planters are made with a high-grade PVC that can easily withstand low temperatures and are impervious to damage caused by moisture and wood destroying insects. They can even be left out in the winter and continue to be planted. The "better than wood concept" means that our rectangular outdoor planters are rot-free and lifetime guaranteed. Various oblong and rectangular planter shapes, custom planter sizes, and a variety of style options are available making them perfect for use with almost any exterior design. Planter boxes available in stock come in three height and width sizes and nine length options, from 24-inch planters to 72-inch large planter boxes. Larger sizes are also available with fast turnaround custom orders. Each planter box can also be customized with a self-watering option to save you time maintaining your plants by reducing the frequency of watering.
The many great features of our PVC planters are:
Outdoor rated, Never Rots - LIFETIME Guarantee
Look like wood
Can be painted to match your home or left unpainted (comes in white)
Self-watering option greatly reduces watering
Custom sizes and lengths up to 16 feet
Solid material doesn't crack or warp during winter freezes - plant year round
PEAK SEASON: SHIPS FULLY ASSEMBLED in approximately 2-3 days (not a kit). These are built to order by professional carpenters.
Size options available for our Rectangular Planter Boxes:
Small: 10"H x 10"W x Any Length
Large: 12"H x 12"W x Any Length
Tall: 18"H x 12"W x Any Length
Commercial Small: 18"H x 18"W x Any Length
Commercial Large: 22"H x 22"W x Any Length
Custom Planter Sizes also available!