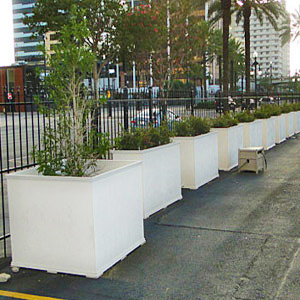 Large Outdoor Planters - Self Watering PVC Planter Boxes
Flower Window Boxes TM is a leading manufacturer and online retailer of large outdoor planters made from solid architectural grade PVC that look and feel like wood, but without any of the rot, maintenance, or hassles of wood and hollow vinyl plastics. We can fabricate commercial grade custom planters virtually any size (scroll down to see our huge selection) to meet your project specifications in various cube, rectangular, trough, and square shapes. Our large planter boxes have been featured in hotels, restaurants, condos, rooftops, and retail locations all over the country and are great for balconies, patios, decks, gardens, and other outdoor areas. They can be built big enough for small trees and we can even add caster wheels to our planters for rolling and easy maneuverability. Each one features a self watering reservoir option that can cut watering 3x fold for less maintenance. Our white plastic planters are made from a heavy duty, architectural grade PVC that can easily be painted with exterior latex paint or left unpainted.

"Our revolutionary better than wood concept is changing the industry!"

The many great features of our planters are:

Never rots - LIFETIME Guarantee
Looks like wood, outdoor rated
Self watering option cuts watering 3x fold
Can be painted to match your business or left unpainted (comes in white)
Custom sizes and lengths up to 16 feet
Solid material doesn't crack or warp during winter freezes - plant year round
PEAK SEASON: SHIPS FULLY ASSEMBLED in 2-3 business days (not a kit). These are built to order by professional carpenters.
Self watering planter feature reduces watering
Available in cube, rectangular, oblong, trough, and square planter shapes

Large Outdoor Planter Sizes
Low Trough and Oblong Planters: 10"H x 10"W x Any Length, 12"H x 12"W x Any Length
Tall and Narrow Planters: 18"H x 12"W x Any Length, 24"H x 15"W x Any Length
Wide Rectangular Planters: 18"H x 18"W x Any Length, , and 22"H x 22"W x Any Length
Extra Large Outdoor Planters: 30"H x 18"W x Any Length, plus Heights and Widths up to 48" and Lengths up to 144"!
Custom Planter Sizes also available!