Custom Window Boxes
Custom Made Window Boxes and Planters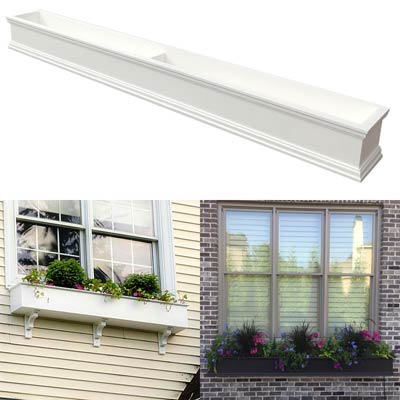 Flower Window Boxes TM is proud to be your provider of no-rot, affordable custom window boxes. Nowadays, there are hundreds of window sizes, and finding a window box that fits your window is important in order for it to look just right. Don't compromise on your exterior design by buying a window box that is too small or way too large - order a custom flower box today and usually it will be shipped out from our facility fast at no extra cost. Ordering custom just became more affordable and now available to you at direct pricing straight from the manufacturer with no added markup.
How does custom window box size affect its price and shipping time?
All of our custom window boxes are made to order, and there is no additional charge for customized lengths. Because we charge by the lineal inch, adding or subtracting a few inches to fit your window usually only changes the price by a few dollars. Custom also doesn't mean it takes longer than usual. With our streamlined manufacturing process, we still ship from our facility in approximately 2-3 business days (currently PEAK SEASON).Ships fully assembled, not as a kit! These are built to order by our professional carpenters.
Specialty flower window boxes
We also make custom window boxes and planters up to 16 feet long. We do give free estimates for specialty custom made window boxes of different heights and depths. Please click here to fill out a free quote or give us a call if you have any questions.
How to properly take measurements for your custom window box
It is ideal to get a box that measures to the width of the window and trim surrounding it, however, in some instances when trim is not present or shutters are present this can affect the measurement. Visit our installation and measurement page here to help you make this decision or give us a call today and speak with one of our representatives for assistance on a built-to-measure flower box. In many instances you can take a roll of paper towels and roll out to the length you think you need then cut a rectangle out that size and tape it under your window to see how it looks from the street.
Custom Planters
At Flower Window BoxesTM, we also specialize in custom PVC planters. We have a wide range of freestanding deck planters and porch planters to choose from. Often times customers will measure their space and email us the measurements to get a free quote. You can sometimes map out your area by using a roll of paper towels to roll out the lengths of the planters you think you need and placing them on the ground in various rectangular lengths to help you visualize your space.

Shop smart with Flower Window Boxes, your affordable solution for custom planter boxes!