Architectural Cedar Wood Braces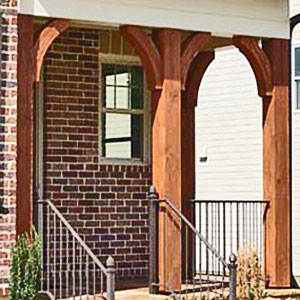 FWB is a national supplier and custom fabricator of cedar braces and other wood products made from rot resistant cedar. Our decorative braces are available in many size and can be custom made in virtually any way to meet your specifications. Braces are great for use for overhangs, garage overhangs, porches, eaves, and as column accents.
Architectural wood braces are a great way to transform overhangs and give them character in a cost effective manner. At CWB we specialize in fast production turnarounds on all of our products even though they are built to order. A typical lead time is roughly 1-2 days to ship out and 1-4 days for a FEDEX delivery depending on if you are on the east coast or west coast. Custom cedar braces and volume orders do not typically affect our lead times.

For a free quote on a custom cedar brace please fill out our quote request form or give us a call today!!