How To Install Window Boxes
All of our PVC window boxes are made from SOLID 5/8" material (not hollow) and designed to be installed so that they are integrated into your home and they are installed in the safest, most reliable manner. At times, installing window boxes over 48" long may need to support up to and more than 100 pounds depending on how you pot and plant them. For this reason, you should be wary of many of the simplistic bracket and cleat systems on the market today which are not necessarily designed to support these kinds of weights and are a major liability and safety hazard. Cleats will trap water, mold, and mildew behind the box leading to water damage and costly repairs to your home down the road. Avoid these systems at all costs and rely on our cleat-less system that's just like the pros do it. It doesn't get any stronger.

PICTURE>> Our boxes are made from stronger materials than the competition who either use hollow material or 1/2" instead of 5/8" material. No warping, cracking, bowing, or distorting over time. Overbuilt to get the job done and backed with a lifetime guarantee. DEMO Only: Please don't try this at home ;)

Our window boxes and flower boxes are installed exactly how a professional would do it and it's easy enough for a do-it-yourself enthusiast to install in minutes (see video below). All of our PVC window boxes are installed using lag shield anchors and lag bolts which lock the boxes to the studs and load bearing portion of the home. This keeps your flower boxes from having any exposed fasteners and allows you to install on brick, siding, stucco, or even rock for the guaranteed safest and most secure method available on the market today! Once the window box is installed you can seal the flower box to the home with a clear silicon caulk adhesive which prevents water from getting trapped behind the box. Click here for our step-by-step instructions for installing window boxes.


Measuring Windows for Window Boxes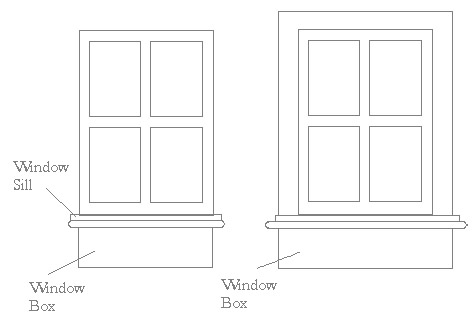 When measuring your windows to determine the size of your window box needs, a good rule of thumb is to get a window box that matches the size of your window or one that matches your window plus your trim. This is especially true when you have a wide trim around your window which makes the window look bigger. You can rarely go wrong by getting a window box that matches your window.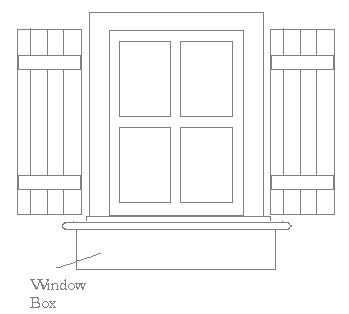 However, when you get a window box that overhangs your window by a few inches this helps create the right balance of window box and window without the window box looking undersized or swallowed up. This is even more true if you have shutters, which tend to make the window look bigger than it actually is. We generally recommend that you go 4-6 inches larger than your window sill in these instances (2-3 on each side).

All of our listed sizes are for the base boxes (not including the cap or trim on the top or edges). Any additional trim that overhangs one of our window box planters is not added to the size of the window box. So for example, a 36" traditional box is built as a 36" box with a cap that overhangs about 1.5 inches on each side (making it 39" at top). Generally, when looking at a window box you see the box itself and not the trim. It's a good idea to get a window box at the desired length and not worry about the cap or trim unless there is a critical dimension you cannot exceed (sometimes shutters hang lower than the window). If you have any questions about measuring, please call 888-505-7715 or email us. Remember, we do custom window boxes with no additional custom fees. If you think you need a flower window box length that's not already in our shopping cart give us a call and we'll be happy to assist you or fill out our free quote form.

Note: All three windows are the same size, yet all three window boxes are different sizes that we would recommend.


How to Measure and Install Exterior Shutters
For measuring your windows for exterior shutters and installing our exterior shutters you will want to go to these pages where we discuss in detail how we recommend doing it.

Video of How to Install Our Window Boxes:
Click the picture on the right to watch a video of our installation process. The left picture is for installing window boxes on brick and the right picture is for installing window boxes on siding.


| | |
| --- | --- |
| Installing Window Boxes on Brick Video | Installing Window Boxes on Siding Video |
| | |