Cedar Rafter Tails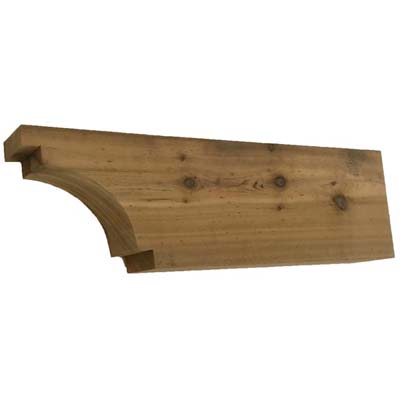 Flower Window Boxes
TM
is a custom woodworking company based in North Georgia that produces
cedar rafter tails
made from red western cedar wood and ships them all over the United States. We offer 11 standard designs and patterns below but we can also custom make our wood rafter tails based off blueprints or drawings that our customers provide. Each
wood rafter tail
can be made in three different standard heights: 6", 8", and 10" high in either smooth or rough form cedar. Additionally, the length of the wood rafter tails can be adjusted from 12" long all the way up to 48" long to fit your needs. Our false rafter tails, or dummy rafter tails as they are also called, are purely decorative accent pieces that give the illusion of a full rafter beam passing through the wall or exterior of a home. These exposed roof rafter tails are non-load bearing beams and purely for aesthetics. All of our cedar products are manufactured from red western cedar for it's prime ability to resist rotting and for its hardy exterior wood uses and beautiful colors. Most of our orders ship in 2-3 days and we service builders, architects, contractors, and homeowners for projects of any size.
Decorative Cedar Rafter Tail Patterns
Our
decorative rafter tails
are great for use outside to give the look and impression of full rafter beams passing through. The back ends of our different rafter designs can be cut to match the slope of the roof line. We have many styles to choose from including Craftsman, Victorian, Modern, and Farmhouse style beams and other classic lines. These cedar rafter tails can be used in a variety of setting as well including for pergolas, arbors, trellises, and more. For these applications you can call us to get pricing on longer beams precut to your specs. In addition to decorative cedar rafter tails we have a wide range of other cedar accents including
decorative cedar gables
,
cedar brackets
,
cedar corbels
, and
cedar window boxes
.
Custom Cedar Rafter Tail Designs
Each cedar rafter tail comes in lengths up to 48" long with the pattern only on one end. However, we can make our rafter tail beams up to 12 feet in length and with the pattern on both ends.
Custom rafter tails
in any length, width, and height are also available and can be quoted by calling us at 888-505-7715, by email at sales@flowerwindowboxes.com, or by filling out our
free quote form
. We'd love to hear from you. You can email us a drawing or blueprint or simply request to have one of our existing rafter tail designs resized to the nearest fraction of an inch to fit your needs.
Rafter Tail Sizes:
Available in 12", 18", 24", 36", 48" and custom lengths.
Available in 5.5", 6", 7.25", 8", 9.25", or 10" height
Available in 3.5", 4", 5.5", or 6" thicknesses and widths.
Available in smooth and rough cedar
Available with pattern on one end or both ends