PVC Window Boxes

Paintable, Self-Watering, No-Rot PVC Window Boxes
Flower Window Boxes offers top-of-the-line window boxes at affordable prices. We manufacture window flower boxes in a variety of styles to match the most diverse range of exterior designs, including conservative traditional, intricate Victorian and lean contemporary architechtural approaches. These high-quality window boxes are made from solid PVC material, designed to look like wood and can be easily painted in any color. Our window boxes are the best value offer on the market and they will completely transfrom the exterior of your home and increase its appeal.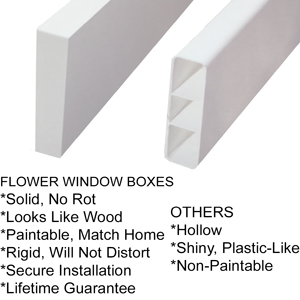 Flower Window Boxes is home of the ultimate, award-winning
window boxes
! Made from an architectural-grade, solid PVC called Versatex, our flower window boxes were
selected by NBC's The Today Show as "the last window boxes you will ever have to buy!"
Our PVC window boxes and window box planters offer many distinct upgrades over wood and vinyl, including:
Paintable to fit any exterior style: Looks like wood and can be painted to match shutters, trim, or siding
Available in custom sizes: up to 16 ft. long
Lifetime Guarantee: 100% rot-free, our window boxes are resistant to deterioration caused by insects and moisture
Winter Ready: Solid material does not warp or crack during winter freezes.
Doesn't require assembly: Our window boxes ship fully assembled in one piece and ready for installation (not a kit).
PEAK SEASON: SHIPS FULLY ASSEMBLED in approximately 2-3 days (not a kit). These are built to order by professional carpenters.
Self-watering: Optional self-watering window box reservoirs reduce watering frequency 3x fold
Straightforward and reliable installation: The construction of our window boxes allows for a more secure installation to prevent tilting, shifting or leaning. FREE brackets on listed promo sizes!