Window Boxes | PVC Window Boxes
We are proud to offer the highest quality PVC window boxes on the market! Our carpenters handcraft each of our planters in a variety of designs and lengths to match any home or window. We make all of our window boxes using a revolutionary, solid PVC material called Versatex which is designed to look like wood but will never rot. Our award winning flower boxes were even selected by NBC's The Today Show as "the last window boxes you will ever have to buy!".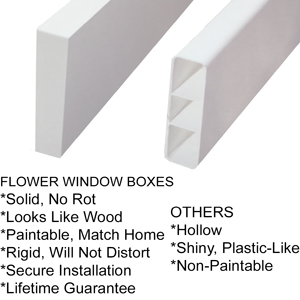 * Lifetime guarantee
: Rot free, impervious to bugs and water, and backed with a lifetime warranty!
* PEAK SEASON: Window boxes SHIP FULLY ASSEMBLED in approximately 2-3 business days (not a kit)
.
* Self-watering option
: Optional self-watering reservoirs reduce watering three fold.
* Custom sizes
: Hundreds of styles and sizes with custom options up to 16 feet long.
* Manufacture Direct Pricing
: Save 20-40% by buying directly from the manufacturer!
* Straightforward and reliable installation
: Our quality construction allows for a more secure installation to prevent tilting, shifting or leaning.
* Winter proof
: The solid PVC material does not warp or crack during winter freezes allowing you to plant flowers year round or decorate during the holidays.
* Paintable
: All of our PVC window boxes and planters come in white and can be left unpainted or you can paint them to match your home.
* Handcrafted by carpenters
: Our professional craftsman build each window planter by hand ensuring the best quality on the market today.

Choosing the Best Window Boxes for Your Home
With so many options available, deciding which will work best for you can be overwhelming. Window boxes come in various materials, including PVC, cedar, and wrought iron. Each material has its advantages and disadvantages. For example, cedar is perfect for customers who want a more farmhouse or natural look, whereas, wrought iron will give your home a more European look and feel. Lastly, PVC is ideal for customers who want a white flower box with little to no maintenance or who want window box planters that can be painted to match your home.

Each of our window boxes come in a variety of styles from traditional to modern. It's important to choose a style that complements the architecture of your home. For example, a Victorian style home looks best with ornate, decorative designs while a modern building looks best with sleek, simple designs.

The final consideration is choosing the size of your window box so that it is proportional to the size of the windows they will be installed on. For this reason, each of our boxes are available in a standard 8" height and a XL 10" height. Our standard height will accommodate most flowers and is perfect for single story homes. In comparison, our XL option has more root space and is ideal if you plan to use more plants over many seasons. The extra large size also allows you to create a front and back row of flowers and usually looks better on two story homes.


Large Selection of Window Box Designs and Sizes
Each flower box comes in white which for most customers is ideal and matches their trim. White window boxes tend to show off plants and flowers more, however, some homes may benefit from having a planter painted to add some contrast. The cellular PVC composite material we use has a matted finish allowing our products to look like wood instead of a shiny plastic. This micro texture finish also gives our PVC flower boxes and planters great paint adhesion and they are paint ready upon receipt. This means you can leave them in their natural white color or you can paint them to match the trim, shutters, or siding on your home. We also offer a professionally painted option for an added cost if you prefer a black flower box.

Our window planters are available in the largest online selection of different designs compatible with traditional, modern, farmhouse, and contemporary looks. In addition to PVC, we have also introduced a line of wrought iron window box planters and cedar window boxes to help you create the perfect design. Because our PVC flower boxes are impervious to bugs, rotting, and moisture, you can plant directly inside them. However, we do offer a line of plastic liners which helps planting flowers and plants in hard to reach windows. We take pride with our customer service and are here to answer any questions you may have. You can also visit our frequently asked questions page to learn more about our products.