Charleston PVC Planter Box - Self Watering Rectangular Planters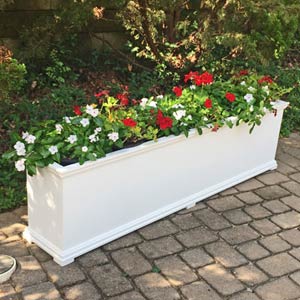 At Flower Window BoxesTM we specialize in no rot, PVC rectangular planters in various lengths. They are made from a high end plastic called Versatex which comes in white but can be painted any color to match your home with an exterior latex paint. Our planters can be planted directly into and a self watering option is available that greatly reduces your watering frequency. In addition to various available and custom lengths, our planter boxes come in seven different height and width combinations, square shapes, and over 50 different standard sizes (scroll down to see our selection). This means we have sizes for every application whether it be residential or commercial. Ideal for decks, patios, porches, business fronts, entrances, rooftops, gardens, hotels, parking lots, and anywhere else you want to add curb appeal! Our standard sizes are:

Small and Medium: 10" High x 10" Wide x Any Length, 12" H x 12" W x Any Length
Deep: 18" H x 12" W x Any Length,
Commercial Sized Medium: 18"H x 18"W x Any Length, 22"H x 22"W x Any Length
Commercial Sized Large: 24"H x 15"W x Any Length, 30"H x 18"W x Any Length
Custom Planters: All Heights x All Widths x All Lengths. Call us or email us for a free quote today!
At Flower Window Boxes, we offer high-quality custom planter boxes that are made in the USA. Our Charleston white planter boxes are our most popular item and will add a certain charm to any home. Our window flower boxes can elevate the exterior of your house and have been featured on "The Today Show," HGTV, and "Ask This Old House." These outdoor planters are made from PVC Versatex that looks like wood and are guaranteed to be rot-free. They come in a beautiful white color that can be painted with exterior latex paint, or they can be left unpainted.
The Charleston planter comes in a variety of sizes. Since our window boxes are custom made to order, you can choose a custom length that will fit perfectly under your windows. We can add a self-watering reservoir system to your flower box that will save you time from watering your plants. The window boxes are impervious to water, which means they will not warp or rot. Our outdoor planter boxes ship fully assembled rather than having multiple parts, so you can immediately start planting directly in the box once you receive your order.


Flower Window Boxes offers quality products at manufacturer-direct pricing. We provide a lifetime warranty on all of our window boxes. If you have any questions, please contact us and we will be happy to assist!