FlowerWindowBoxes.com, ForeverShutters.com, CedarWoodBrackets.com
Custom Window Box, Shutter, and Cedar Products with a Quick Turnaround

Flower Window Boxes
We are a custom woodworking company specializing in PVC products backed with a lifetime guarantee. Everyday we custom make our products for customers all across the United States as well as Canada. Our goal in every job is to do high quality work at an affordably competitive price with a quick turnaround. We can custom make any of the products on our site or we can even start from scratch and fabricate a one time unique product for a customer with an idea. Our company was founded in 2008 by Matthew Buquoi, owner, and since then we have been featured on TV shows like The Today Show, Ask this Old House, and HGTV as well as received numerous awards and been featured in various home and garden and home improvement magazines. Our goal is 100% customer satisfaction in every job we do. No job is too big or too small, we can even do custom work on very small projects at a very competitive price. Give us a call today and let us know what you're needs are and usually you will get a free quote the same day!

Forever Shutters
In 2016, we introduced a revolutionary, new exterior shutter line called Forever Shutters which is the first stainless steel reinforced, solid cellular PVC exterior shutter on the market. This began our goal of offering an affordable no, rot shutter solution for customers tired of dealing with the hassles of wood shutters. We added 20 paint colors to our line a year later and have complete custom capabilities to build and make the shutters to our customers needs.

Cedar Wood Brackets
Cedar wood brackets was an offshoot of our company that started back in 2014 and has slowly grown over time. It stemmed from our customers request for quality, outdoor curb appeal products. Today, we pride ourselves on offering unique products and services the big box stores can't match. We work on custom blueprints and drawings daily and can deal with any customer ranging from an architect to an average home owner to help with any project, regardless of size.

Today all three companies are part of our parent company, Flower Window Boxes, Inc. We adopted the new Logo in 2016 to reflect the combination of our three product lines into one newly branded company.

Owner, Author
Matthew Buquoi
Matthew founded the company in 2008 and each year has worked tirelessly to grow the company. When he's not engaging with his customers he is busy designing new products, overhauling the manufacturing process, or writing content in the window box, shutter, and home and garden industry where he has over a decade of expertise dealing with customers.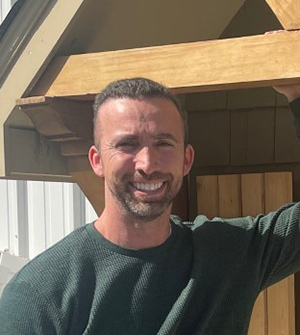 Office Manager
Shelby Buquoi
Shelby joined the company back in 2011 and has been a key component in the growth of Flower Window Boxes as the primary office manager.