10 Ways to Add Curb Appeal to your Home
Your home is need of an upgrade, its yours and you like it, but you want to love it and more, so you want others to admire it as they pass. You don't want to go full Griswold, but you are looking to really increase the curb appeal in a big way. Here are 10 BIG WAYS TO INCREASE YOUR CURB APPEAL.
1. A fresh coat of paint, you don't want you house to stand out for the uniqueness of your paint choice but something fresh and different from your immediate neighbors can really help. If every house in your neighborhood is white and a splash of blue or even a beige can cause your house to stand out, it doesn't need to be extreme. No one wants a hot pink house or one the same obnoxious green as road workers safety vests, also no one enjoys boring. If the HOA will not allow you to paint the whole house, then paint the trim like life paint is not all black and white. This is the basic canvas from which we will build the masterpiece of your house's face.
. Window Boxes are a great way to start adding more curb appeal through more color and depth. Since flowers are not as permanent as paint you can experiment more with different colors you want to add to the front of your house by swapping out from season to season and year to year. Mix and match what is in your boxes: some tall plants with some hanging plants and a good mix of the seasons best color offerings.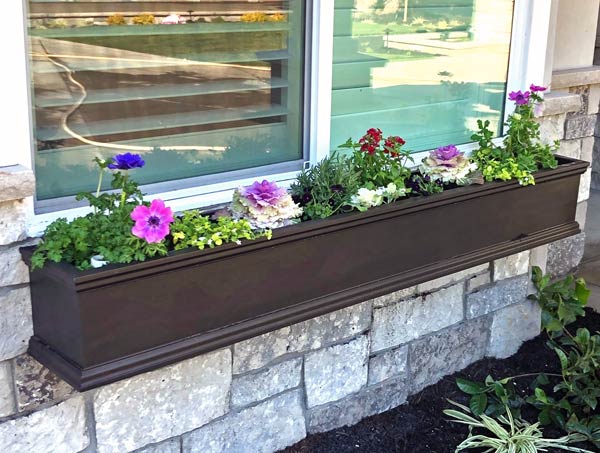 3. Railing planters are a way to bring the color of fresh flowers to your porch and fresh air to enjoy while you sit out there. Railing planters come in two different types: hanging rail planters and rail top planters. Hanging rail planters hang on hooks down beside the railing and help to maintain the view just adding color. Rail top planters sit atop the railing and can add privacy in addition to improving the look of the house.
4. Ground planters can be used in the yard as an alternative to flower beds or can be used on a deck or porch without a railing to create an edge or barrier. Use smaller planters 10-12" in height and width by various lengths to create pathways or edging. Use larger planters to create focal points.
5. Shutters allow you to frame a window drawing the human eye to the eyes of the house. Beautiful shutters make a house an inviting home and again are a great place to get in your color accents. Match your trim or other accent pieces to tie it all together on the face of your home so that the different splashes of color look intentional and improve the overall look.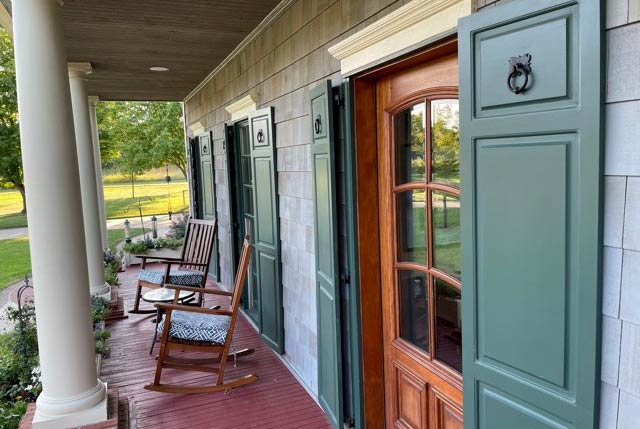 6. Pediments, don't know what a pediment is? That's okay most people don't know what they are called but they know what they look like. The decorative trim pieces above a window are called pediments, and like shutters they are meant to frame the window and draw the eye. Even simple designs can add complexity and greatly improve the face of your home.
7. Cedar brackets, cedar is great for adding a touch of life to a home it can look modern in a smooth finish or more rustic in a rough finish depending o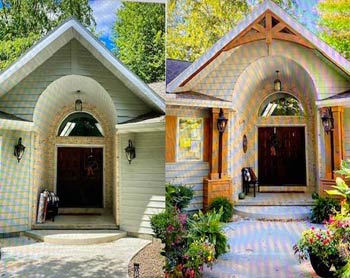 n your location and desired design. They can be medium to large sized and typically are used in corners especially on porches or deck supports. These can be painted or stained and can be simple or complex in design with straight lines or curves. 8. Cedar Braces are the center of a bracket without the straight height and projection legs, this means they can get a little smaller than brackets without losing their identity because there are less parts that need to develop.
9. Cedar corbels continue down the line from largest to smallest in this line of cedar products. Corbels tend to be smaller and can therefore be used in application where a bracket or brace would be too big, this means that they are often found in the eves of houses or under window boxes. If you are going to use them under window boxes or in another place where they will look better painted than stained and therefor lose some or all the natural beauty of the wood than you could also consider PVC corbels a no rot construction material that looks and feels like wood that can be painted with exterior latex to achieve any color Sherwin Williams or Benjamin Moore can think of.
10. Cedar gables are the big boss of cedar products for curb appeal. Whether they are big spanning 16' or small covering only 4' with optional designs covering straight and/or curved lines, these are installed in the peaks of homes and draw the eye to the eves. This allows you crown your home in warm beauty.
Use one or a combination of these to take your home from just another on the block to the star of the neighborhood. For all your curb appeal needs contact Flower Window Boxes, we do standard and custom window boxes, railing boxes, planters, shutters, and cedar brackets, braces, corbels, and gables. Started in a garage we have been in business for 13+ years and build every order to order by professional carpenters in Georgia using US sourced materials. You can find us online at www.flowerwindowboxes.com, or by phone at 888-505-7715 Monday through Friday 7a-4p EST or email us at sales@flowerwindowboxes.com.