Wood Shutters vs. PVC Composite Exterior Shutters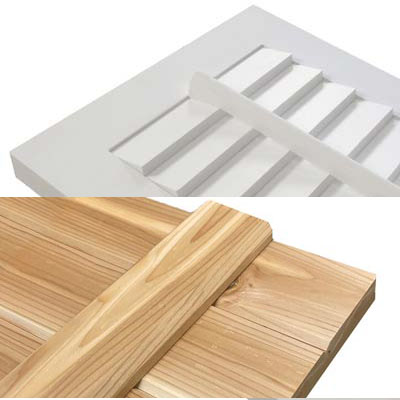 PVC Exterior Shutters and Cedar Shutters
$165+/pair
(click for more info and pricing)

Exterior shutters can boost a homes curb appeal but one drawback to shutters is that they generally don't hold up to the elements as other parts of the home. This is because shutters are intricately made and installed in such a way that they often get direct sunlight which can warp, twist, fade, or expedite the rotting process leading to costly maintenance, repair, or replacement. Window shutters are mostly aesthetic accents that enhance a home's exterior appearance. When selecting shutters, weighing each material's benefits and drawbacks before making a choice is essential. Various materials are available for exterior shutters, including PVC, composite, and other materials like wood. Each material has pros and cons, and choosing a specific material should be based on your specific needs and preferences. This article covers three popular shutter materials:
Wood exterior shutters
Composite exterior shutters
PVC exterior shutters

Wood Exterior Shutters
Wood exterior shutters are crafted to meet the exact measurements of the windows in a homeowner's abode. they can be painted or stained to match the hue of the house. They offer many advantages, including improved aesthetics and increased durability compared to vinyl shutters. As they are made to fit the exact dimensions of the homeowner's windows, they can help enhance the property's look. These shutters are usually constructed from pine, cypress, cedar. Wood shutters usually come in standard sizes but for an additional cost they can be custom made by local shutter companies. Custom exterior shutters can give a home a polished, unified look when their colors match the existing color scheme. This is especially beneficial for those seeking to enhance the visual appeal of their residence, as custom shutters can add an individual and distinct touch. Wood shutters cost less than PVC and composite shutters and are easily found at all the major big box stores. For this same reason most home builders will build homes with wood shutters because they are cheaper. By the time they would rot 5-10 years later the home owner is left picking up the tab and the home builder is usually done and gone.


| | |
| --- | --- |
| Pros of Wood Exterior Shutters | Cons of Wood Exterior Shutters |
| Less expensive Wood exterior shutters are typically less expensive than PVC and composite shutters, making them a less budget-friendly option. | More Maintenance Wood shutters can easily split apart or require caulking, repainting, or repair. |
| Easy to Install A DIY enthusiast can easily install wood shutters with standard drills and screws. Because they can be fastened, the use of hinges is an option for functionality. | Can Rot Over Time |
| Easy to Find Wood exterior shutters are easily found online and at big box stores. | |

Types of Wood Wood is a traditional material used for exterior shutters, and provides a natural, warm look to a home. They are available in various styles and colors and can be stained or painted to match the exterior of your home. However, wood shutters can require regular maintenance and may rot or warp over time if not adequately treated or maintained. When it comes to wood exterior shutters, there are several types of wood to choose from. Each type of wood offers unique benefits, and it is vital to consider the specific needs of your home and climate when choosing the best wood type for your shutters.
Pine Wood Shutters
Pine is an economical choice for exterior shutters and is easily accessible. Although light and simple to work with, it may have a different longevity than other wood varieties. Many big box stores will offer exterior shutters made from pine as a lowest price point economical choice for their consumers. The drawback to the low cost is that pine wood shutters require frequent upkeep and treatment to prevent rotting or decay. Ultimately, the best wood type for your exterior shutters will depend on your specific needs, budget, and desired aesthetic. It is essential to carefully consider each wood type and its benefits and drawbacks before making a final decision.
Cedar Wood Shutters
Cedar exterior shutters are popular, as they are naturally resistant to rot, decay, and insect damage. Cedar is an excellent choice for homes located in areas with extreme weather, as it is lightweight yet durable. The wood is available in many colors and can be stained or painted to fit the look of the exterior of your home. In addition to cedar, cypress is also a popular choice for high end wood shutters since it shares many common traits of rot resistance and color to cedar.
PVC Exterior Shutters
PVC exterior shutters made from polyvinyl chloride are an excellent option for homeowners looking for a low-cost and low-maintenance solution. PVC is a long-lasting and durable plastic material, making it an ideal choice for exterior shutters. These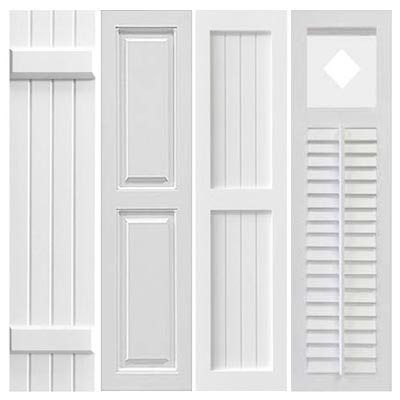 PVC Exterior Shutters and Cedar Shutters
$165+/pair
(click for more info and pricing)

shutters are also lightweight and easy to install. Unlike Vinyl shutters, the addition of Chlorine makes the material more stable. For this reason, PVC exterior shutters are generally made of solid material that looks and cuts like wood making it easy to work with. A cellular PVC shutter is also designed to hold paint meaning you can paint these and they will look like wood and new for a very long time. Additionally, they can withstand moisture, fading, and UV rays, making them an excellent choice for locations with extreme weather conditions. If you're a homeowner whose had a set of wood shutters already that rotted and you're looking for a replacement other than vinyl, then PVC exterior shutters are a great option and more cost-effective than other materials like fiberglass.


| | |
| --- | --- |
| Pros of PVC Exterior Shutters | Cons of PVC Exterior Shutters |
| Low maintenance PVC shutters are resistant to moisture, rot, and insects, which makes them easy to clean and maintain. | Not as attractive PVC shutters are less visually appealing than other shutter materials and can look plastic-like. |
| Can withstand harsh weather conditions PVC shutters are designed to withstand harsh weather conditions, making them an ideal choice for those living in harsh climates. | Limited color options PVC shutters are limited in color options, making it difficult to find a color that matches your home. |
| Cost-effective PVC shutters are one of the most cost-effective options on the market, making them an excellent choice for those on a budget. | Can fade over time PVC shutters can fade over time when exposed to sunlight and weather conditions. |
| Versatile PVC shutters are available in various styles and designs, making it easy to find the perfect match for your home. | Not bio-degradable They are not as eco-friendly as other materials, as they are not biodegradable and may release harmful chemicals into the environment. |
Composite Window Shutters
Composite window shutters are made of a combination of materials, including wood fibers, which makes them a good option for those who want a more natural look with low maintenance.
Composite shutters are an excellent choice for custom projects as they can be molded into many shapes and sizes. These shutters are durable and made from a blend of wood fibers and resins. They are known for their strength, imperviousness to moisture and UV rays, and require minimal care. Composite exterior shutters have the benefit of being relatively low-maintenance compared to wood shutters which need to be painted or stained regularly. Though they may be more costly than PVC or wood shutters, they do not require special care. They are usually manufactured with better techniques that use fewer components make them less likely to split apart. Composite exterior shutters offer many advantages for those looking for an environmentally friendly option. Not only are they composed of recycled materials, but they are also biodegradable, meaning they will not take up space in landfills. This makes them an ideal choice for those looking to reduce their environmental impact. Unfortunately this also means they are not lifetime guaranteed as eventually the material will succumb to rot and decay. Expect composite wood shutters to last 10-15 years which is a better performance to real wood.


| | |
| --- | --- |
| Pros of Composite Shutters | Cons of Composite Shutters |
| Durable Composite shutters are designed to withstand harsh weather conditions, making them an excellent choice for those living in hot climates. | More expensive Composite shutters are typically more expensive than PVC shutters, making them a less budget-friendly option. |
| Low maintenance Composite shutters are manufactured from fewer components making it harder for them to split apart | Can rot over time Composite shutters are ultimately composed of recycled real wood and will eventually succumb to rot and decay. However, expect them to last 10-15 years. |
| Versatile A variety of styles and designs of composite shutters are available, making it easy to find the ideal option for your home. | |
| Environmentally friendly Shutters constructed from a mixture of recycled materials offer an eco-friendly choice. | |

Flower Window Boxes is an online window box and shutter company specializing in high end cedar and PVC products for your home. Our Forever Shutters line of exterior shutters is lifetime guaranteed and made from a solid PVC material than will never rot.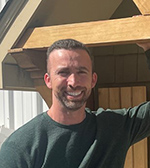 About the Author
Matthew Buquoi is the owner of Flower Window Boxes, Inc., which is one of the largest online window box companies in the United States. In addition to being the owner, he is also an expert author, and regularly writes about industry topics in the window boxes, planters, exterior shutters, and home and garden industry. In 2016 he released the Forever Shutter line of composite PVC exterior shutters.