Forever Shutters Paint Color Options
At Flower Window Boxes TM, we offer over 20 shutter colors to choose from for our Forever Shutters TM brand. All exterior shutters are painted using Sherwin-Williams Pro Industrial Multi-Surface Acrylic Latex Paint in an egg-shell finish. You can also order our composite PVC exterior shutters unpainted and paint yourself if you want a different color. For painting our exterior shutters yourself we recommend using the same paint as us listed above due to its fast cure time and excellent adhesion.

If you would like to know how these colors would appear on your home we have two recommendations. First, stop by your local Sherwin Williams store and pick up the paint swatches in the colors below that we offer with our exterior shutters. We've listed all the paint swatches below by name and number. If you are still unsure speak with your local Sherwin Williams store about ordering a small test sample of the paint. Many stores will sell you a test sample in a smaller bottle. If you have questions you can reach us at 888-505-7715.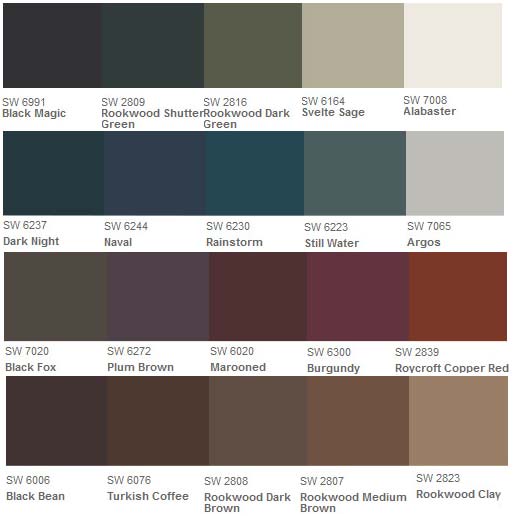 Black Magic SW 6991
Rookwood Shutter Green SW 2809
Rookwood Dark Green SW 2816
Svelte Sage SW 6164
Alabaster SW 7008
Dark Knight SW 6237
Naval SW 6244
Rainstorm SW 6230
Still Water SW 6223
Argos SW 7065
Black Fox SW 7020
Plum Brown SW 6272
Marooned SW 6020
Burgundy SW 6300
Roycroft Copper Red SW 2839
Black Bean SW 6006
Turkish Coffee SW 6076
Rookwood Dark Brown SW 2808
Rookwood Medium Brown SW 2807
Rookwood Clay SW