Flower Box Arrangement Ideas For Tiny Spaces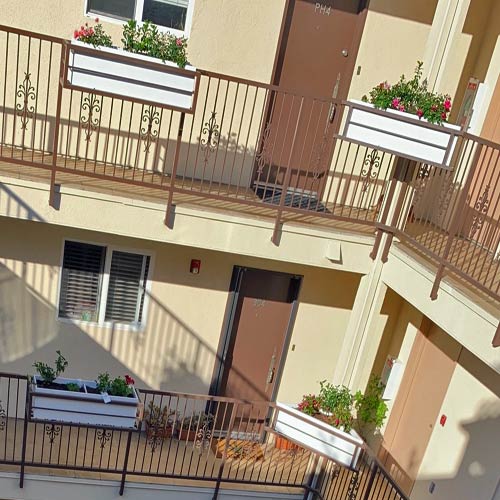 If you live in a small apartment or have limited outdoor space, it can be challenging to incorporate plants and flowers into your home decor. However, with the right flower box arrangement ideas, you can add a touch of nature to your space and make it feel more vibrant and alive. Here are some flower box ideas that will help you make the most of your tiny space.

Flower Boxes on a Balcony
If you live in a condo or apartment, you may find that the only way to garden is from your balcony. Your balcony is already probably small so container gardening with freestanding outdoor planters will not leave you enough of a footprint to enjoy the company of living things you are planting. Additionally, the HOA might not allow permanent attachments so mounting window boxes may not an option. How do you bring a garden to your condo in a way that won't incur the wrath of the HOA? The answer could be hanging rail flower boxes. You can hanging flower boxes on a railing using flower box rail hooks. Since you can simply slide the hook on or off the rail, they are generally allowed by HOAs. Check with your individual HOA to see if you can use these versatile planters to garden in your condo.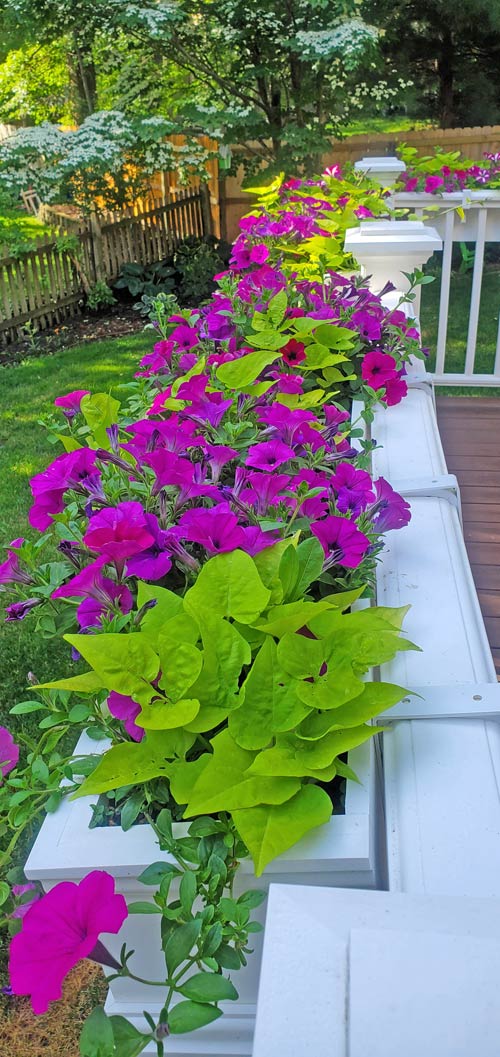 You can choose to use longer planters to span the entire rail or a few small lighter weight ones that you leave gaps between. Either choice allows you to bring living plants directly to your condo. You can order hanging rail planters with no drain holes if you are worried about it dripping on your balcony, sidewalk, or downstairs neighbor; this works best if your box isn't subject to rain, so you can control the watering and prevent root rot by carefully keeping the soil moisture level correct for your plants. If your boxes ae subject to frequent rain use a filter material like landscape fabric to make sure what does drain from your box is more like rainwater and not mud. Since these boxes can be taken down easily, they are perfect for those who are in residence only part of the year. They are also ideal for those condos along the coasts who must consider hurricanes.

Vertical Flower Boxes
When it comes to tiny spaces, vertical flower boxes are your best friend. They are perfect for those who want to add a touch of greenery without taking up too much floor space. There are many ways to create a vertical flower box, and one of the easiest ways is to use a ladder or a hanging shelf. Simply place a few flower pots on the rungs of the ladder or hang them from the shelves, and you have a beautiful vertical flower box that adds height and interest to your space.


Plant with Less Soil

Another advantage of hanging rail planters is they use less soil than a ground planter. With the standard 8"H x 8"W a six foot planter only needs just over 2 cubic feet of soil mixture. In addition to being an economical way to garden, it will also save you from hauling heavy bags of soil to your condo. In addition to less soil, the valuable resource of water will not be wasted. Especially if you add a self-watering system; use a lightweight option like potting mix or vermiculite to help maintain moisture and nutrients better. Hanging Rail boxes are an efficient way to bring a garden to your condo.


Flower Box Garden Standing Up
Rail hanging boxes also have the advantage of being at a convenient height that makes working on the garden easy. Just stepping out the door to the rail not only makes planting easy but also harvesting flowers to display inside your condo. If you garden preference is herbs, this method will keep you fresh growing herbs near your kitchen. Having fresh herbs steps away makes tasty cooking easy. No need for knee pads or aching backs when your garden is just the right height. Improve you view If your condo balcony just looks out on another condo balcony across the way, hanging rail boxes can improve your view as well. These versatile planters can change your view to a gardener's delight. You can plant decorative grasses that stand tall or drooping vines to hang down, depending on where you need to improve your view. You can even alternate plants, so your condo balcony evokes middle of the jungle vibes. The variety is only limited by your imagination.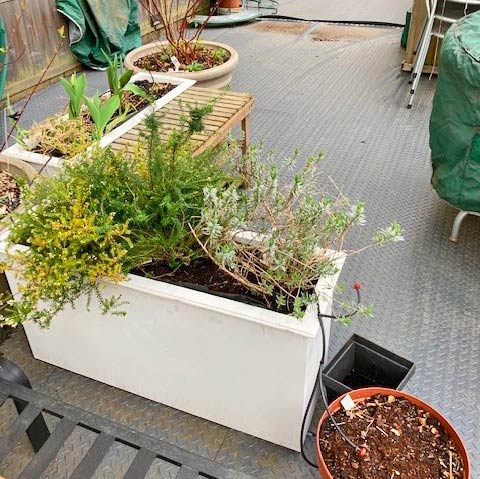 Improve your Air Quality
Condos are always in high traffic areas and can therefore be subject to vehicle pollution and other less than pleasant odors; live plants can help filter the air and provide pleasant aromas. Small bushy plants like lavender do well in containers and are both beautiful and lightly and pleasantly aromatic.

Ground Planters and Window Boxes
Condos usually don't allow permanent fixtures like window boxes or have the necessary space for ground planters, but in some instance it will make sense so make sure to check with your HOA rules ahead of time to see what is allowed.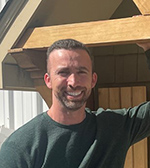 About the Author
Matthew Buquoi is the owner of Flower Window Boxes, Inc., which is one of the largest online window box companies in the United States. In addition to being the owner, he is also an expert author, and regularly writes about industry topics in the window boxes, planters, exterior shutters, and home and garden industry.