How to Measure for Decorative Shutters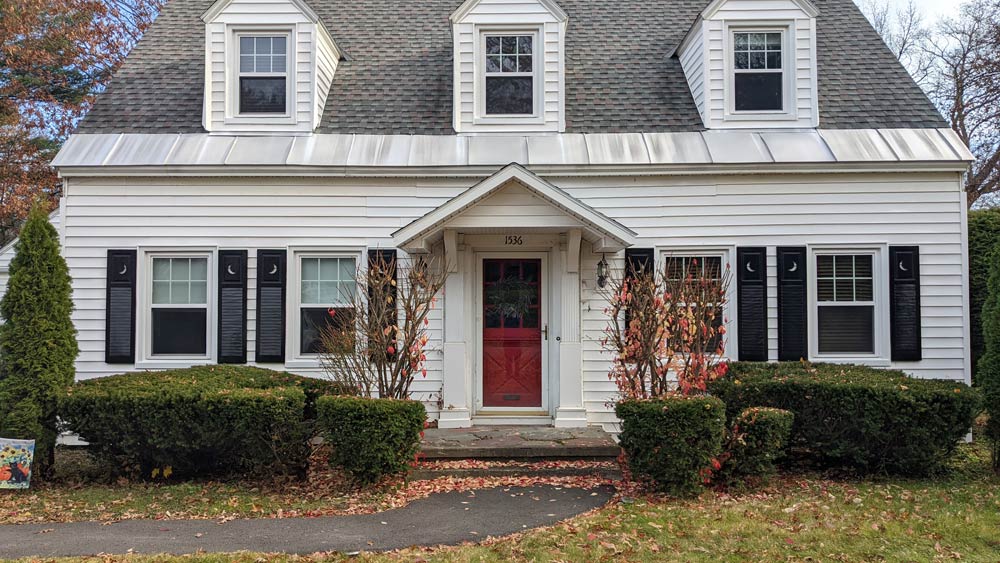 If you will be installing the Forever Shutters brand of composite exterior shutters to your home, then we recommend you follow the measuring recommendations here, for measuring for pvc exterior shutters. Exterior shutters are often used to increase the curb appeal of your house, rather than functioning as protection in a storm. Since decorative shutters do not close it is not necessary to make them one half the width of the windows. In fact, you can put the same width shutters on windows of different widths, if you choose.
One of the questions that often trouble people is what size shutters SHOULD I order. There is not one correct answer for what size shutters go on a window. You can choose one width and be consistent for every window, typically 15 inches. You can also make the width of the shutter proportional to the width of the window. While either of these methods is correct, it is primarily a matter of aesthetics.

Height measurement is straight forward. Generally, the height of the shutter matches the height of the window, only, do not include the surrounding window trim in your measurements. Once you know your heights you can often decide your widths based on proportion. The best way to know what width looks best to you is to do a mockup. You can do this using poster board, cardboard, or even simply a tape outline next to your window using painter's tape. If you don't have a standard size that is common you may need to consider ordering custom exterior shutters.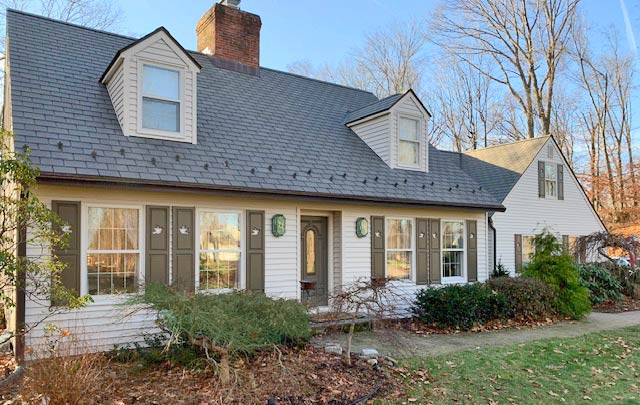 If you want to do proportional sizing the rule of thumb is for windows that are 36" to 48" in width, look at 18" wide shutters. For you wider windows, 22" width shutters are a good place to start.

Style can also play a factor in shutter width. Board and batten shutters as well as raised panel shutters are generally attractive in varying proportions. Flat panel shutters can look squatty if they are wide for their height. While split panel shutters can look skinny if they are tall but narrow. Once you have decided on style, measurements and quantity, the only other question is color. If you choose shutters made from PVC, then you must use a latex paint. Oil based paints do not adhere to PVC well since it's a non-absorbing material. You'll want to choose a high-quality exterior latex. If you choose a paint designed for non-wood applications, check the dry time. Some of those products have lengthy cure times, up to 14 days. Cedar outdoor shutters can hold stain and are a great option if you are looking for a more rustic or farmhouse look. Now that you know what shutters to order, we will move on to hanging them.


How to Choose Hardware for Decorative Shutters
Direct mount Kit
You have chosen your decorative shutters, now you are trying to figure out how to hang them. Since decorative shutters are literally just there for looks, the most cost-effective way to mount them is to us a direct mount kit. Kits like the one pictured below allow you to attach the shutters directly to your wall with no fuss and without the expense of hinges. These kits contain screws, plugs, and a counter bit that allows you to sink the screw into the shutter and cover that with the plug. The plugs, like the shutters can be painted. If you are mounting into masonry such as brick, rock, or concrete block you will need to use plastic anchors. If you are hitting the studs, you do not need to add anchors.


Shutter Hinges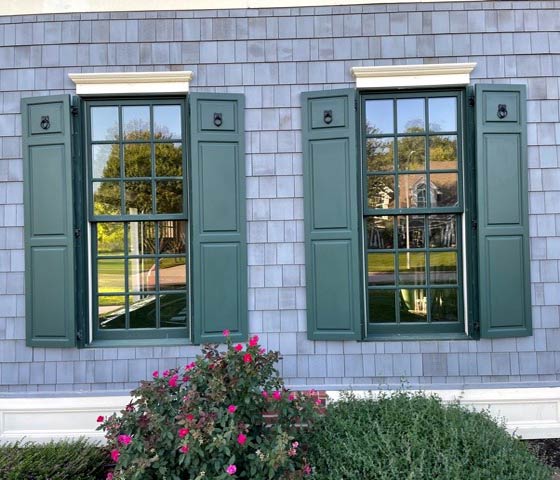 Even though these shutters are accent pieces to add curb appeal to your house and not protective shutters, many homeowners want them to look like they will close. What type of hinges will you need? First let's look at materials the hinges are most often made from. Shutter hinges generally come in your choice of steel with black powder coating or stainless steel with black powder coating. Other than price what is the difference? Most people are fine using steel hinges. These hinges are strong and durable enough for most installation. However, if you live on or near the coast where the lovely ocean breeze eats metal then stainless steel might be your best investment. Hinges are generally made in two parts. The part of the hinge that attaches to the shutter is called the strap. The strap is measured to the center of the knuckle, the hinge joint, less the strap thickness. The part of the hinge that attaches to the building is called the pintle. Pintle offset is measured from the base to the center of the pintle, or pin. Offsets generally come in 3 sizes 4-1/4", 2-3/8", and 1-1/4". How do you figure which offset you need? To make measuring easier, place a flat piece of wood (A) along the wall extending beyond the window casing as shown. Measure from the casing (B) to the back of the wood (A). How many hinges do you need to hang your shutters? For shutters of 48" or less in height two hinges per shutter generally provide sufficient support. If your shutters are between 49"-95" then you should use 3 hinges per shutter.


Video for How to Install Decorative Shutters
The old adage a picture is worth a thousand words is true. In this case moving pictures are worth even more. For how to install shutters, check out our video for installing exterior shutters on hinges.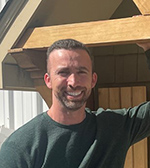 About the Author
Matthew Buquoi is the owner of Flower Window Boxes, Inc., which is one of the largest online window box companies in the United States. In addition to being the owner, he is also an expert author, and regularly writes about industry topics in the window boxes, planters, exterior shutters, and home and garden industry.