Pros and Cons of Copper Window Boxes
So you're considering adding copper window boxes to your home, but you need to know the pros and cons. Here is a quick rundown of when and why you should choose to do so. A copper flower box has a timeless beauty that looks classy and expensive. Copper looks like this because it is beautiful when it is brand new, all bright and shiny and it is beautiful when it has an aged patina look (that classic green look). It reminds people of the Statue of Liberty and other glorious monuments and statues of great acts of history memorialized for all time. Copper can instantly add a degree of class to any structure as both a mark of style and status. Copper is also a corrosion resistant metal that performs well with water over time. It will age and patina, but water will not corrode holes into it as quickly as iron. Typically, copper window boxes and planters are made from 16 ounce, the same thickness as a copper roof or gutter, and can last upwards of 30+ years with little maintenance. Copper does come in various gauges and thicknesses and not all copper will match. Be careful to ensure that what you are buying is real copper, and if you are unsure, ask your manufacturer for a small sample piece of their copper. Some copper alloys have nickel or tin in them which can give them different properties but can also take away from their luster.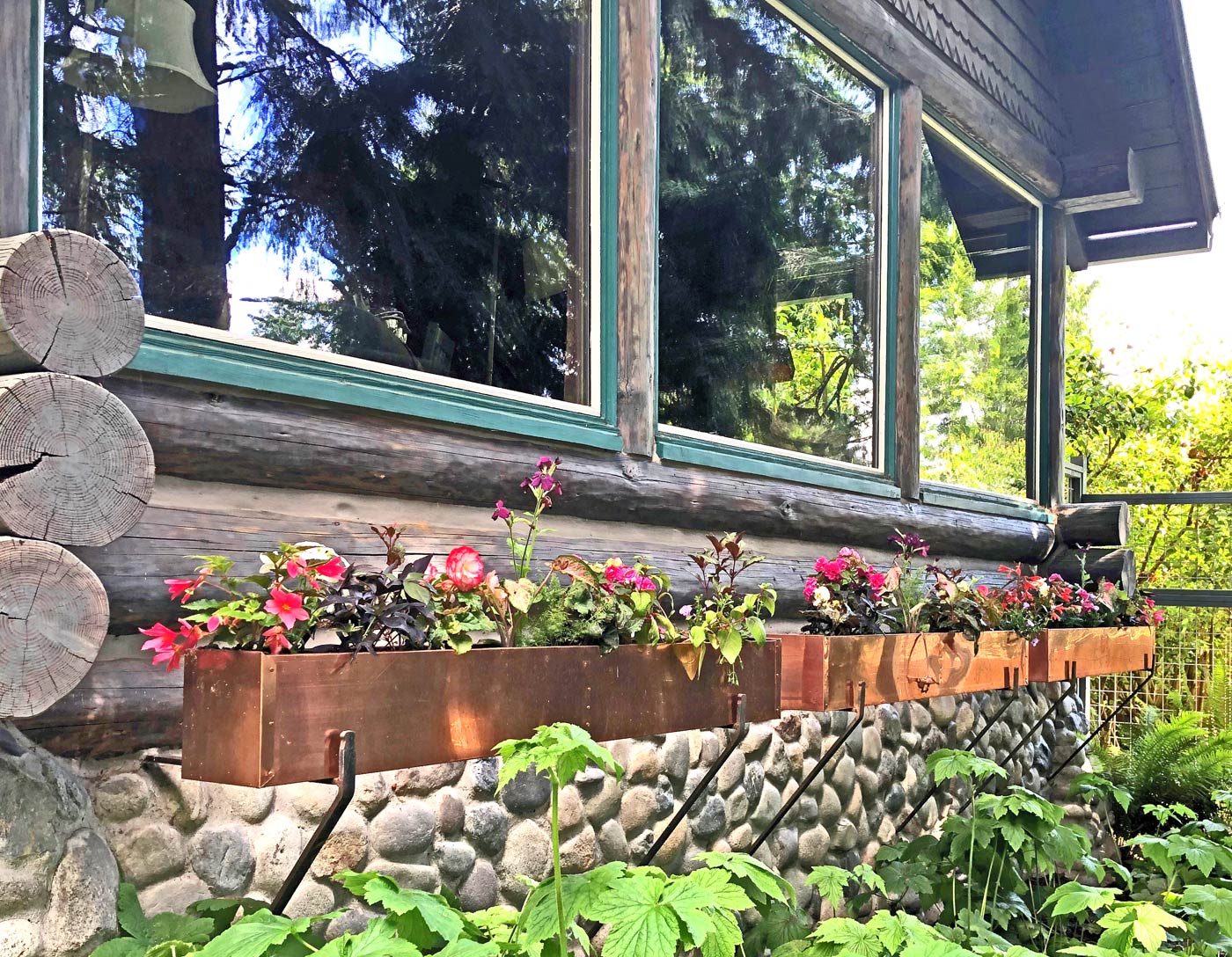 Copper window planters will attract a lot of attention from admiring people walking or driving by, from HOAs, and even historical societies. But one drawback is that it can also attract the attention of less favorable persons and can be susceptible to theft. So if you want to go with copper you will need to take steps to secure the boxes firmly in place so they are harder to steal. This shouldn't be a big concern or deterrent as in most cases a copper box is placed inside a wrought iron window box cage. Since copper is often a sheet metal, it usually cannot be mounted directly to the wall by itself, but you can secure it while maintaining the look and concealing the securing features by using the decorative cage. Copper is an expensive metal to work with so most manufacturers are going to have a limited selection on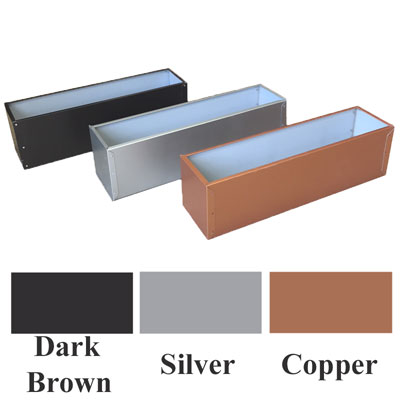 size and design to select from, and you are likely to only find smaller window box sizes not larger planter sizes. Again, check with the manufacturer to see if they offer any custom sizing.
The next consideration for copper is a big one and that is the cost. Copper flower boxes are usually one of the most expensive routes and may or may not be in your budget. However if you still want the look of copper, but are put off by the cost or other reasons listed above, then here are some potential alternatives. You could select a copper colored aluminum window box instead, and it will be significantly cheaper than a real copper box and still give a similar look. Aluminum or galvanized metal will have a shorter lifespan than real copper. Although aluminum won't rust, it can corrode over time and an aluminum flower box or liner can be expected to last only 5-10 years. It will also be lighter in weight than the real copper but will not develop the beautiful patina that real copper will. Copper liners are also a great way to protect a wooden window box from rotting.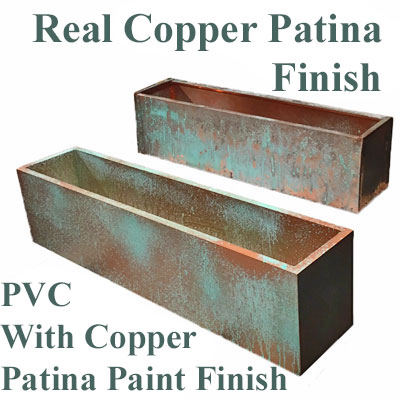 Another option is a PVC window box painted with a faux copper paint finish to resemble copper. A lot of copper paints nowadays have actual copper flakes in them to give a nice copper appearance. Some high end paints are even designed to patina over time. A faux copper window box or liner itself made from PVC is a great alternative for cost savings and is a no rot material that should last a lifetime so it can outperform real copper in longevity. PVC is also food safe, so if you want to grow more than just flowers, you could do so in this type of box. There are also bronze and silver tone paints as well that can allow for a variety of metallic options and looks.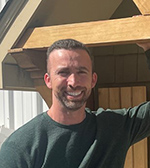 About the Author
Matthew Buquoi is the owner of Flower Window Boxes, Inc., which is one of the largest online window box and flower box companies in the United States. In addition to being the owner, he is also an expert author, and regularly writes about industry topics in the window boxes, planters, exterior shutters, and home and garden industry.