Transforming An Outdoor Living Space Into a Garden
An exciting aspect of outdoor living space is to bring the indoors outside. Outdoor living allows you to create space to unwind and relax after a busy workday. A space you can escape to. You can transform that outdoor living space into something exotic or magical by adding window boxes and outdoor planters for a wide range of herbs, flowers, and plants. Strategically placed around your patio or balcony, they afford you privacy and stunning views with the additional benefits of organically grown herbs and vegetables. You can add outdoor furniture, string fairy lights, or build an outdoor kitchen. Transforming your outdoor living space takes some thought, creativity, and design sense. The following article highlights affordable, easy, and practical ways to transform ordinary outdoor living space into a unique space for relaxing or entertaining.


How To Transform An Outdoor Living Space
Upgrading an outdoor living space can significantly enhance your home's curb appeal and provide a relaxing and inviting space to entertain guests, unwind after a long day, or enjoy the great outdoors. Here are some helpful ideas for you to create the perfect outdoor oasis. Transforming your outdoor living space takes some thought, creativity, and design sense. Before you begin to design an outdoor living space, you should keep the following in mind;

· What is the available outdoor space?
· How many people will the space accommodate?
· Is the space children and pet-friendly?

With these answers in mind, you are ready to look around the outdoor space and decide how to transform it into a sanctuary you can relish alone or with friends and family.


Using Window Boxes and Planters to Transform an Outdoor Living Space
There are several benefits to incorporating window boxes and outdoor planters into your outdoor living space. Not only do they offer a way to bring nature closer to you to help calm and relax you and your guests, but window boxes and planters are also a great way to hide away an unsightly view and offer privacy. Window boxes and outdoor planters are ideal to bring some pizazz to your outdoor living space. They are light to medium weight and easy to move around to suitable areas, and several design options are available for home growers. For those people concerned about the environment, window boxes and outdoor planters are also available in recycled material with non-toxic paint in stunning colors.
· You can use window boxes to create a vertical garden to grow several varieties of herbs, vegetables, and decorative plants.
· Outdoor planter boxes placed against garden walls or dividers are a great way to elevate flowering plants and create a picturesque view when in bloom.
· You can put up a privacy screen or build a green wall with climbing plants or vine tomatoes that will afford you adequate privacy.
· Outdoor planters are ideal for growing lavender and rosemary. These fragrant herbs are ideal insect repellants and a must for every outdoor living space.
· You can quickly move flower boxes on railings around your outdoor living space to accommodate sun, wind, and rain elements.
· Tall shrubs grown in outdoor planters are perfect windbreakers for your outdoor living space.
· If you have a climbing rose to grow on a trellis, you can plant thyme in a window box or outdoor planter. Growing thyme next to rose plants deters blackflies from damaging the rose plants.


Decking Out a Deck with Flower Boxes

A deck is excellent for entertaining and relaxing because it provides a level surface. Wooden decks, mainly, emanate a warm and welcoming feel. Frequently decks are constructed over the uneven, sloping surface. Decks have multiple uses ranging from sunbathing, entertaining, or dining. To protect from the elements, you should add a shade cover to your deck, shrubs in planters, or a green wall for privacy. When constructing a deck, it is essential to use high-quality materials, like pressure-treated lumber or composite decking, designed to withstand outdoor conditions. Flower boxes can be used to hang over railings to create an herb garden and alternatively, flower boxes on top of railings can help create privacy.


Furnishings To Transform Outdoor Living Space

When considering furnishings for your outdoor living space, you should remember to select comfortable and practical furniture for outdoor living and ensure they are weather resistant and washable. While wooden furniture is ideal for outdoor living, you should ensure you protect the furniture against the harsh sun and water. You can also consider low-maintenance furniture materials like PVC, which looks like wood but with the features of plastic. Alternatively, if you enjoy working with your hands, you may consider reclaimed wood to build suitable furnishings for your outdoor living space or cedar. You can dress your outdoor furniture with rugs and brightly colored throw cushions. The idea is to retain the natural appeal of your outdoor living space but with a contemporary look. For a modern contemporary look, you can mix up the colors, textures, and patterns of your cushions and rugs. This will break the monotony and harsh lines of contemporary décor. You must ensure the rugs and cushions are treated and in durable, weather-resistant fabric to avoid mishaps or sun damage.


Create Ambiance To Transform Outdoor Living Space
The ambiance you wish to create is essential when transforming your outdoor living space. You want to create a space that allows you freedom, relaxation, and entertainment. The musical sounds of water add to the ambiance of your outdoor living space. Undoubtedly adding a water feature will help you and your guests relax and unwind. There are several different types of water features for you to choose from. Where you have water, you should also have fire. To add a fire element to your outdoor living space, and if you're feeling ambitious you can add a fire pit or a fireplace. The fire pit is comforting and great for keeping you warm during winter. For extra warmth when temperatures drop, you can add an outdoor heater. The heater will provide warmth well into winter so you may continue to entertain and enjoy your outdoor living space. Another aspect of improving the ambiance of your outdoor living space is lighting. Correct lighting is essential outdoors, especially around the cooking areas. It would be best if you also had sufficient lighting around the stairs and pathways. For these areas, you can use decorative lighting. Adding outdoor lighting can help you create a warm and welcoming ambiance in your outdoor space. Several options are available, including string lights, lanterns, and spotlights. To make your outdoor living space appear more extensive, you can thread fairy lights around trees and outer garden walls.



Line a Patio Border with Planters
A patio is another popular choice for outdoor living spaces. Patios are typically constructed from stone, concrete, or brick, and architecture designers create them in various shapes and sizes. For aesthetic and functional appeal, you can add a few window boxes and planters around your patio.

Cooking Area Transforms Outdoor Living Space
It would be best to consider an outdoor cooking area when planning your outdoor living space. Here you can show off your cooking skills to friends and family. An outdoor cooking area makes entertaining simpler and more convenient. You include a grill, wash sink, refrigerator, and sufficient storage space for your outdoor cooking area. To enhance the area's appeal around your outdoor cooking space, you can place window boxes and outdoor planters filled with fragrant herbs, edible flowers, and other vegetables.


Conclusion
Transforming your outdoor living space is a great way to improve your home's overall look and feel. It will also provide you with a relaxing and inviting space to enjoy the great outdoors. Several ways to transform your outdoor living space include adding outdoor lighting, choosing the right outdoor furniture, incorporating water features, building an outdoor kitchen, and using outdoor planters and window boxes for gardening, viewing, and privacy. By incorporating some of these elements into your outdoor living space, you can create an oasis that mirrors your style and suits your needs. Several options are available, whether you're looking to entertain guests, spend time with your family, or relax in a peaceful environment. With a bit of creativity and careful planning, you can effortlessly transform your outdoor living space into a beautiful and functional extension of your home. So, why wait? Let Flower Window Boxes, Inc. help you start planning your outdoor transformation today and create an outdoor living space that you can appreciate for years to come; and make you the envy of the neighborhood.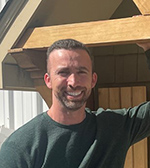 About the Author
Matthew Buquoi is the owner of Flower Window Boxes, Inc., which is one of the largest online window box companies in the United States. In addition to being the owner, he is also an expert author, and regularly writes about industry topics in the window boxes, planters, exterior shutters, and home and garden industry.