Rail Planters Create Privacy on Your Deck
So you have a back deck you love and neighbors you don't, or maybe you want to grill or eat a meal without an audience? You need to create some privacy on your deck so you can do what you want with only your invited company, and railing planters are your answer. These flower boxes not only add privacy but also beauty to your deck or patio.There are a couple options: hanging rail planter and rail top flower boxes.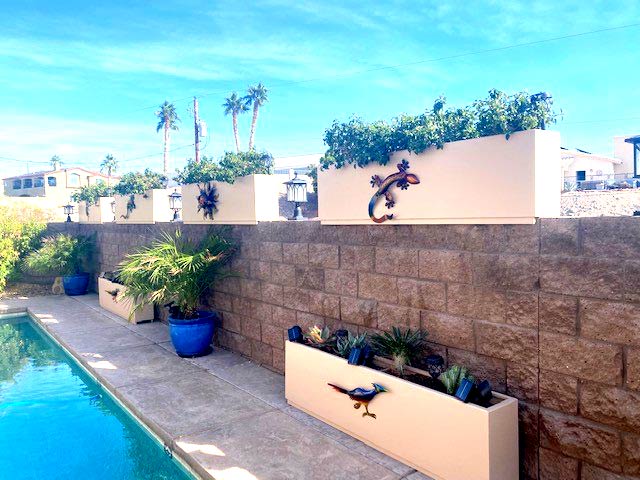 Rail top planters are exactly as they sound; they are planters that sit on top of your railing and add height. This immediately adds 8+ inches to the top of your railing just from the planter then you add the plants of your choice to increase the height and add color. This type of planter requires you to be working from a railtop that is flat and solid so it can handle the weight and keep it balanced. You also need to secure the boxes to the railing; this is typically achieved by directly screwing the boxes to the railing. If you are trying to cover long distances: 20+ feet you will be best served by a series of 5-6 foot boxes. Depending on your budget and level of privacy you wish to achieve you can either leave some spacing between adjacent planters or you can put the planters next to each other touching. Spacing reduces privacy a little but can help with your budget.

Hanging rail flower boxes are also exactly as they sound; they are window boxes that hang down beside the railing. There is a lot more versatility in the types of railings that hanging rail boxes can accommodate; different shaped railings with curved or tapered tops where boxes cannot balance on top can have boxes hanging down on hooks. These cannot raise the railing as much because they start out with the top of the box roughly level with the top of the railing and only the plants stick above the railing. However, choose tall plants and you will achieve the desired privacy on your deck or patio. This will also give a more open feel by showing off plants and leaving the ability to look out over your railing to see your backyard.

So what plants work to grow tall with small containers for their roots? There are decorative grasses in many varieties or tall growing flowers like lavender or butterfly bushes that do well in plant containers. Boxwoods are another great option; they're versatile and can be found in varying sizes to go well in smaller or larger containers; it can even be "trained" to different shapes if you want to put in that effort. They also stay green and grow year round which help maintain privacy deep into the winter season.

So what if you have a patio without railings, and you need to create some privacy from neighbors? You can use ground planters to sit on the patio floor and block a neighbors view. This will allow you to lounge, grill, eat, or any other leisure of your choice with only your invited guests. Create the privacy you desire with beautiful plants and everyone's view improves!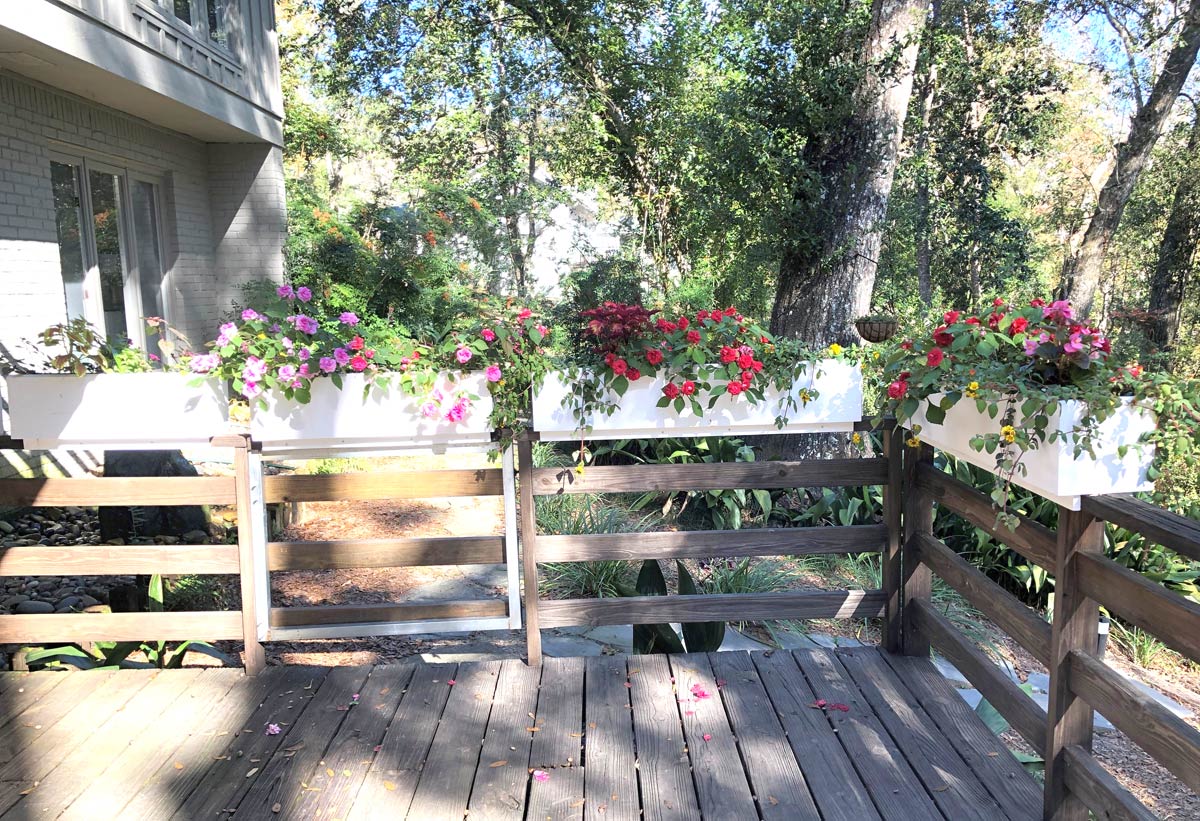 Ground level containers like these can be used to grow everything that the smaller railing planters cannot such as large boxwoods, other large bushes or small trees. Many choices are low maintenance, or you can get fancy and work with higher maintenance plants to create true art on your deck. Another addition to ground planters to add beauty and privacy is combining them with a trellis for any variety of climbing vines or flowers. Adding living plants to your deck can also improve your air quality and provide pleasant aromas whether that is flowers or herbs.

So where do you get rail top planters, hanging rail planters, and ground planters in one place so you can custom design your patio or deck area? Flower Window Boxes, Inc. is a US based company that builds standard and custom window boxes and planters for your rails to order. If you need more information call us at 888-505-7715 or email sales@flowerwindowboxes.com; we are open from 7am-4pm EST Monday through Friday to answer your questions.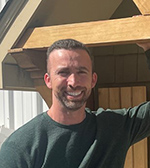 About the Author
Matthew Buquoi is the owner of Flower Window Boxes, Inc., which is one of the largest online window box companies in the United States. In addition to being the owner, he is also an expert author, and regularly writes about industry topics in the window boxes, planters, exterior shutters, and home and garden industry.