Starting a Raised Bed Garden or Elevated Planter Garden
Gardening is great for connecting with nature, producing healthy food, and beautifying outdoor spaces. However, living in an urban or suburban area, you have limited garden space. If you have a yard, then one solution is to garden in elevated raised beds, but if you don't have much yard, then an elevated planter may be perfect for you. Elevated raised beds are an excellent way to grow vegetables, flowers, and herbs in a limited space. By choosing the right type of garden bed, selecting the right plants, and taking proper care of your garden, you can create a beautiful and productive garden that will provide fresh produce all season long. The following article will explore the benefits of gardening in elevated raised beds, how to choose the correct type of raised bed or planter, and tips for growing healthy plants.


A Guide To Starting A Raised Bed Or Elevated Garden
Gardening is a fantastic way to beat rising food prices, and while it enhances the exterior of your home, it also increases your home's property value. Anyone passionate about gardening can start a kitchen, herb, or flower garden with elevated and raised beds or planter boxes. Elevated planters or raised bed gardens are ideal for those with limited space, living in the suburbs, or who want to start a roof garden. Here are a few guidelines for starting a garden with raised bed planters and elevated garden planter boxes.


Selecting The Correct Garden Planter
Before you commence with your garden, selecting the correct setup is key. You must consider space requirements and functionality first and foremost. However, sun exposure, what plants or vegetables are suitable for the planter boxes, the width and height of your raised or elevated bed garden, and the planter box material are also considerations. Online window box and planter companies have a broad range of ready-made planter boxes and complete raised bed kits for the gardener with a knack for putting things together. The kits are available in cedar, recycled plastic, and steel. The material selected is often wood. Pressure treated or cedar planter boxes protect from harsh elements and require less maintenance to prevent damage from sun exposure, bugs, and rot. Despite this, a wooden raised bed garden can have a life expectancy of only 5-7 years. For this reason you should consider a raised be made from composite material or a cedar planter with an inner PVC core that will look like wood, but last significantly longer.

Some are available at adjustable heights to suit every gardener's needs. A taller raised planter is ideal for older individuals who find traditional gardening on the ground complex. No bending or kneeling is required to sow seeds or weeding the garden when you use an elevated planter. A suitable raised bed for gardening is approximately 92 inches long (234 cm), 24 inches wide (61 cm), and 10 inches (25 cm). However, if you are a novice, starting with 1 or 2 planter boxes may be a better option. You can place ground planters or planters on deck railings to bring the garden to waist height and closer to the home. The height of the raised bed and elevated planter box is another essential point to consider when starting a garden. The deeper the planter box or raised bed, the better it is for the plant's roots to grow and the larger they can ultimately grow. For starters, a good raised bed or elevated planter box is between 6 to 10 inches deep. Deeper raised beds, and elevated planter boxes hold more soil, which means the soil holds more moisture. You will not need to water the plants as frequently as with soil with less moisture.

Raised and elevated planter beds also work on all ground types. Whether the ground is concrete, poor soil, or uneven, you can set up a functional, flourishing garden with a raised bed or elevated planter. The key is to fill the raised bed with fresh, optimal soil for planting. Raised beds have excellent drainage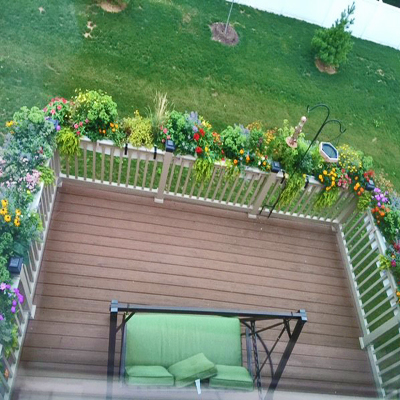 so gardeners do not need to concern themselves about root rot or plant damage because of improper drainage. However, an elevated planter should take drainage into consideration to make sure the planter is not draining onto a pavement. Placing filter fabric and small pebbles on the bottom of the box and using a soil-less potting mix can help minimize dirt falling through the drain holes and getting on a deck or patio.


Selecting The Correct Soil For Raised Beds And Elevated Planter Boxes
To ensure your plants and vegetables grow healthy and flourish in your raised beds and elevated planter boxes, fill them with the best soil type. Gardening enthusiasts suggest potting soil blends for raised beds and elevated planter boxes. Potting mixes contain nutrients, vitamins, etc., to ensure healthy plants. Regular garden soil is dense and heavy for raised beds and elevated planter boxes. It also does not contain the essential nutrients plants require. You will require more commercial fertilizers to bring regular garden soil up to scratch to ensure healthy plants. You should also include a good mix of organic compost in your raised bed garden and elevated garden planter boxes. Organic compost is rich in nutrients and loosely packed to allow for good drainage and for roots to spread freely. A good soil proportion for raised garden beds and elevated garden planter boxes is;

Raised Beds:
· 60 % topsoil
· 30% compost
· 10% potting soil

Outdoor Planters:
· 80 % potting mix
· 20% compost, moss, potting soil, or potting mix


Select The Correct Location For Raised Beds And Elevated Planter Boxes
The correct location is essential when starting a garden in a raised bed planter or elevated planter box. It should receive six to eight hours of full sun daily to ensure a healthy garden. While full sun is ideal for some plants and vegetables, if your garden is shady, you can grow shade-loving plants and place your raised garden bed and elevated garden planter in that area. They will also have lower watering requirements.

Ideally, you should position your raised bed garden or garden planter close to a water source. Remember, a fundamental reason for starting a raised bed garden and elevated garden is to increase the convenience of gardening. You do not need to walk distances carrying heavy watering cans or dragging along a hose. You can use self-watering planter boxes or add a planter water reservoir to a garden planter. Self-watering planter boxes are a great idea to help beginner gardeners and those who travel frequently. If you are using a raised bed, then consider adding a sprinkler system near it if you aren't near a hose. You can also install a rain barrel to capture rainwater that can then be redirected to the garden. This facilitates watering and is excellent during periods of drought or reduced rains.

Removing grass and perennial weeds from the area around your raised garden bed and elevated garden planter box is also essential. And a good tip is to loosen the regular garden soil before setting down your raised garden bed or elevated garden planter box. Loosening the soil improves drainage and moisture retention in the raised bed and elevated planter box. It also allows for the plant's roots to spread without hindrances. If you are planning a herb garden or more miniature vegetable garden, it is ideal for placing your raised bed and elevated garden planter box close to your kitchen. Not only does this location facilitate watering, but makes the picking of fresh herbs easier.


The Best Vegetables, Herbs, And Plants To Grow In Raised Beds And Elevated Planter Boxes
Both gardening methods offer a convenient and efficient way to grow herbs, vegetables, and plants. They are both especially ideal for urban gardeners with limited space and provide better drainage, easier maintenance, and soil control. It would be best if you did not let the fact that you are gardening in a smaller space, as opposed to a regular garden, stop you from growing your favorite vegetables, herbs, and plants. A broad selection of herbs, vegetables, and decorative and ornamental plants is still appropriate for growing in a smaller garden or plant container.

First, consider the space requirements. For example, vine plants like melons, cucumbers, and some tomato varieties require space horizontally and vertically. You will also need extra trellis, ladders, or stakes to accommodate their growth.

· You can select varieties of compact vegetables like Tumbling Tom tomatoes, eggplants, peppers, and carrots.
· A good herb mix like basil, thyme, lemongrass, rosemary, and parsley is ideal for raised beds and elevated planter boxes.
· An assortment of small-stature berries, like strawberries, blueberries, and raspberries, are also an excellent fit for raised bed gardens and elevated planter boxes. Their fruit is delicious, and the greenery adds a special touch.
· Annual window box flowers like petunias, marigolds, and some bulbs also make great additions.
· Potatoes are the perfect root vegetable for raised gardens and elevated planters. You can grow them from tubers instead of from seeds. As the plant grows, you add more soil to cover the roots as they grow. This ensures a more significant potato crop.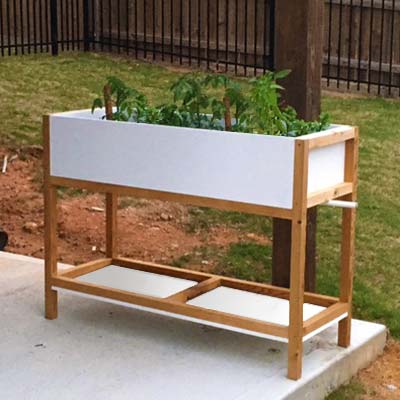 It would be best to consider plants that grow from seeds and those sown directly into the ground. Gardeners can sow root vegetables like carrots, beets, corn, beans, squash, and cucumbers from seeds directly. Sowing the seeds of these vegetables directly into the ground is better because the young plants do not transplant well. Always allow sufficient growing space between the plants when sowing seeds directly into the raised garden beds and elevated planter boxes.

Know the required root space of your vegetables when considering what to grow in a raised beds or elevated planter:

· Very shallow-rooted plants that require 6-10 inches of soil depth. These include onions, lettuce, garlic, mint, and radishes to name a few. They can be planted in window boxes if you want to create a window garden.
· Shallow-rooted plants that require 12 to 18 inches of soil depth. These plants, like salad greens, require shallower beds. A 12"-18 wide planter is enough to get the job done.
· Medium-rooted plants, like peppers, require 18 to 24 inches of soil depth. Use a planter box that is at least 18" wide to grow these.
· Deep-rooted plants, like tomatoes, require 24-36 inches of soil depth. These require planters of at least 2' x 2' square width or diameter.

In all cases, you can see the advantage of larger planters allowing for more planting options as well as a larger garden harvest.

Gardeners should plant seedlings when the weather is calm, cooler temperatures with some moisture in the atmosphere. You should avoid planting when the sun is at its peak. And remember, the young seedlings require regular watering to grow well. The young plants require daily watering for the first few weeks as they sprout and grow roots. Use a cover like garden fabric to shield the young plants from the effects of the elements.


The Best Time for Starting a Raised Bed Garden or Elevated Planter Garden
Planting at the right time gives your plants the best chance to thrive and produce a bountiful harvest. The best time to start a garden in a raised bed or elevated planter box is during spring after the danger of frost has passed. However, you can also plant a fall garden in late summer or early fall if the climate in your area permits.

You should consider the following two factors which may impact the productivity of your garden and the health of your plants when starting a garden in a raised bed or elevated planter box;

Climate
If you live in a region with a short growing season, waiting until the frost has passed before planting is best. Alternatively, if you live in an area with a milder climate, you can start planting earlier in the season.

Type of Plants
The plant types you want to grow will also determine when to start your garden. You can grow plants, such as cool-season vegetables like lettuce and broccoli, in early spring while planting warm-season vegetables like tomatoes and peppers in late spring or early summer.


How To Tend Your Raised Garden Bed And Elevated Plant Box
A raised bed garden or elevated planter garden requires as much tendering as a regular garden. However, they are each easier to maintain.

Here are a few hints on how you can tend to your garden.

Watering
Regular watering is essential for the health of your plants. Ensure your elevated planter box has proper drainage to prevent waterlogging, which leads to root rot. Soak your young plants deeply once or twice a week, depending on the atmospheric conditions and the plant types you are growing. Watering is easier in raised bed gardens because they have more soil space and will retain water better than in a container.

Fertilizing
Nutrient-rich soil is essential for the growth and development of your plants. Add compost or organic fertilizer to your garden bed every few weeks to ensure your plants have the nutrients they require to thrive. Potting containers also need regular fertilizer each season. As nutrients are pulled from the soil, fertilizing will help replenish the mix each growing season.

Weeding
Weeds can quickly take over your garden and compete with your plants for nutrients. Remove weeds regularly to prevent them from becoming a problem. You can also add mulch to your garden bed to suppress weed growth.

Pest control
Pests pose a problem in any garden. Watch for signs of pests, such as chewed leaves or drooping plants. Use natural pest control methods, such as neem oil or insecticidal soap, to keep pests at bay. Companion planting is also great for pest control.

Harvesting
Regular harvesting can encourage your plants to produce more fruits or vegetables. Harvest your plants when they are ripe and ready, and be sure to pick any overripe or damaged fruits or vegetables to prevent them from attracting pests. You should remove the flowers from herbs like basil to encourage growth. Regular pruning of herbs also encourages healthy growth.


Final Thoughts
Starting a garden in a raised bed or elevated planter box is a great way to grow fresh herbs, vegetables, and plants with limited space. Elevated garden planters are easier to maintain with less strain on the gardener's knees and back making them more convenient. Following the tips and guidelines outlined in this article, you can successfully start a raised garden bed or elevated garden planter box and enjoy the fruits of your labor for months.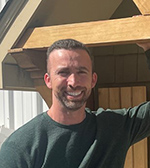 About the Author
Matthew Buquoi is the owner of Flower Window Boxes, Inc., which is one of the largest online companies that makes flower boxes in the United States. In addition to being the owner, he is also an expert author, and regularly writes about industry topics in the window boxes, planters, exterior shutters, and home and garden industry.