Utilizing Outdoor Planters in an English Garden
English gardens date back to the 18th century, but despite their age, they're still popular today for their gently rolling lawns and full blossoms. Now picture yourself waking up to the sweet sounds of birds chirping and singing in your backyard. As you walk down a winding path surrounded by colorful flowers and beautiful statues, you're led to a charming and comfortable bench that beckons you to unwind and enjoy your favorite book. Turn this dream into reality with an English garden, one of nature's most beautiful and elegant lawns—you don't need a professional landscaper to make one in your home. We'll guide you through the steps needed to design an English garden for your home.


Top English Garden Structures and Hardscapes
What makes an English garden different than a traditional garden is the hardscaping elements. An English garden is characterized by winding paths, natural elements, and features like topiaries, mazes, fountains, benches, window boxes, statues and more. An English garden creates an immersive and peaceful experience that you wouldn't get with a traditional garden. The beauty of English gardens lies in the details. Here are some ideas for adding the perfect finishing touches to your garden:

Status and sculptures: classic status and modern sculptures add elegance and interest to your garden.

Water features: A small pond or fountain brings ambiance to your garden while the sound of flowing water drowns out any unpleasant sounds.

Birdbaths: Provide birds with water to drink and bathe in.

Wind chimes: Add soothing sounds to your garden.

Garden gnomes: Add garden gnomes for a touch of whimsy and fun.

Garden arches: Add height to your garden and provides a focal point for climbing plants.

Pergolas: Provides a shaded area for seating and climbing.

Garden walls: Low garden walls define your garden space and provide a backdrop for plants.

Garden trellises: Showcase climbing plants like roses, clematis, or honeysuckle. A trellis can be mounted to a structure, wall, or simply attach to a planter or garden container.

Outdoor planters: Add outdoor planters throughout your garden to add character and structure. For the purpose of this article we will focus primarily on how to use planters and flower boxes to enhance your English garden.


Choosing the Right Flower Box for an English Garden
Window boxes, planters, and flower boxes give your English garden extra color and texture. If your backyard is small, containers can hold more plants without taking up too much space. You can also hang these flower boxes on railings, fences, or patios. Flower boxes are usually made of wood, metal, and plastic. Choose a container that fits your garden style. Wrought iron window boxes are historically perfect for an English garden. European window boxes are famous for their ornamental, metal designs from balconies and bringing this to your garden is perfect for an English garden. You can also use cedar planter boxes for a more farmhouse twist that uses a more natural element that blends in well. Creating focal points by placing flower boxes at your garden's entrance or in corners to get more attention on your space. If your planters are too small, plants won't have enough space to grow. Also, if your window boxes are too big, they can offset the garden's style. Remember, that your container should have proper drainage to prevent waterlogging your plants. A self-watering planter box can help with maintenance and watering issues.


Designing Your English Garden Flower Boxes
These tips will help you get the best out of your planters:
Layout and Design: The first and most important step is choosing a location for your planters. You will need to decide the layout and measure the lengths. You may need to even order custom planter boxes for your project.

Choose a color scheme: Choose colors that compliment your English garden. You can also go for a bold and contrasting scheme.

Layering: Try layering tall plants in the back of your flower boxes and short plants in the front to create depth and interest.

Texture: Mix soft flowers with spiky grasses or fuzzy leaves to create a visually exciting display.

Seasonal changes: Change your plants with the seasons to keep your English garden looking fresh all year round.


Preparing the Soil for Planting
Before planting your flowers, you must prepare the soil. English gardens are known for their lush, full blooms, and the key to achieving this is by ensuring your soil is fertile and has good drainage. Garden containers benefit most from potting mix type soils. You can add amendments, compost, and peat moss to the soils to make them more fertile. Some common changes include:

Compost: Compost has rotten organic material like leaves and grass. These add nutrients to the soil and let it hold more water.

Peat moss: This light and hairy material improves water retention in sandy soil.

Manure: Well-decomposed manure adds nutrients to the soil but should be used sparingly with other organic materials because it contains high salts and other harmful compounds.

Fertilizer: Fertilizer adds nutrients to the soil but should be used sparingly because it can harm the plants and environment.


Choosing the Right Plants
Add variety of plants by mixing and matching different plants inside planters to create a beautiful and diverse display. Use roses, peonies, lavender, delphiniums, and foxgloves to give your garden British royal vibes. Boxwoods and shrubs also help create structure and formality. They're often used to line pavements and are trimmed into different shapes like balls, cones, or pyramids.
English ivy, creeping jenny, and sweet potato vine are great trailing plants to put in any container. Geraniums are perfect flowers to add to the display to add color and geraniums in window boxes are easy to care for.

Only use plants that are good for your home's climate and soil conditions by checking their sun and shade requirements. Also, think about your garden's overall design because English gardens have a sense of symmetry and balance. Your plants must complement each other and bloom at different times of the year, so your garden will always have continuous color and interest.


Planting Your Flowers
After getting the right flowers, it's time to start building your English garden. Layer perennial plants by planting the tallest ones at the back of your garden beds or flower boxes and the shorter ones at the front. You should also space your plants to give them enough room to grow and add mulch around them to hold moisture and stop weeds from growing.



Adding the Right Lighting

Spotlights can be used to highlight certain plants or garden features like planter boxes. Add solar light along a trail to create a magical atmosphere in your garden. For hanging window boxes uses string lights in or around the container to emphasize it at night and draw attention. Lanterns can be used on branches or walls to give an old world feel and enhance your English garden.


Creating a Seating Area
Here are some tips for creating the perfect sitting area:

Choose the right location: Your seat should be in a spot where everyone can enjoy the view of your garden. You can place it in the center of your garden or the corner for privacy.

Pick comfortable seating: Benches, chairs, and swings are good sitting options for long hours.

Add shade: You can use a large umbrella or shade sail to protect you from the sun.

Accessorize: Adding accessories to your sitting area, like cushions, throw pillows, and a rug, can make it more inviting.


Maintaining Your English Garden
Once you're done making your English garden, you should look after it with the following tips:

Regular weeding: Weeding keeps your garden neat and tidy while mulching around your plants stops weeds and holds more water. Similarly, pruning helps keeps the shape of your garden in check.

Deadheading plants: Removing the spent blooms lets your plants grow more flowers, especially roses.

Pest control: Control common garden pests like snails and slugs to stop infestations.


An Eden in Your Home

An English garden is a great way to create a beautiful and peaceful space in your home that reflects your classic style and appreciation for nature. From the design, aesthetic appeal, and low maintenance to its ecological benefits and seasonal interest, this garden could be your best decision ever. By choosing the right plants and preparing your soil correctly, you can transform your home into a classic English garden. So, what are you waiting for? Get your gloves and tools ready for your next big project. Flower Window Boxes is one of the largest online flower box and planter companies in the US. Make sure to check out our online products or call us at 888-505-7715 to help you with your next big garden project.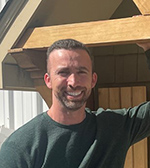 About the Author
Matthew Buquoi is the owner of Flower Window Boxes, Inc., which is one of the largest online window box companies in the United States. In addition to being the owner, he is also an expert author, and regularly writes about industry topics in the window boxes, planters, exterior shutters, and home and garden industry.