Cedar Gable Brackets
Our
decorative cedar gables
and architectural
gable brackets
are a great way to add a craftsman or farmhouse touch to your home. Our cedar gables are made from red western cedar timbers and built by professional carpenters. They are made with great attention to detail and backed with our quality guarantee and customer service. Whether you are a builder, architect, or home owner we work with customers of all backgrounds to help transform the look of their homes!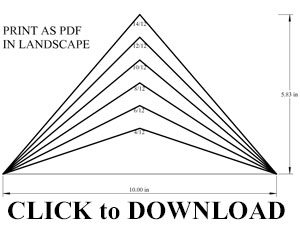 Before you can order a cedar gable, however, you must first figure out the pitch of your roof and then also the size, or length, of gable you want to install. All roof pitches are listed as rise/run for clarity. Only two variables are needed to determine the full specifications of any of our pitches: length and pitch. From there the height is determined mathematically. If you prefer to provide us with the height and pitch instead, we can calculate the length for you based on your specifications. Click the Downloadable Pitch Template and print in landscape mode as a .PDF. Hold the template up to your gable roof line to ballpark the size of your pitch. If it does not EXACTLY match one of the listed pitches then give us a call or consult with a local handyman or contractor. If you would like to calculate the pitch yourself you can also read our article titled
5 Ways to Determine Roof Pitch
which will walk you step-by-step on how to accurately measure for and calculate the pitch of your roof. Click here for our
Printable Roof Pitch Chart and How to Measure Pitch of Roof
.
We have 7 designs to choose from in various lengths and roof pitches to accommodate virtually any roof. You can also browse our large selection of decorative gables below and add them to your shopping cart for quick checkout if you already know the length and pitch you need. For each gable, we list eight of the more common roof pitches, however, we can custom fabricate to virtually any pitch based on your specific needs. We can also build custom gables from drawings, blueprints, or diagrams or resize any of our existing gable designs to fit your space. To request a quote on a
custom decorative wood gable
please fill out our
quote request form
.
We Do Custom Decorative Gable Brackets - Custom Pitches and Designs!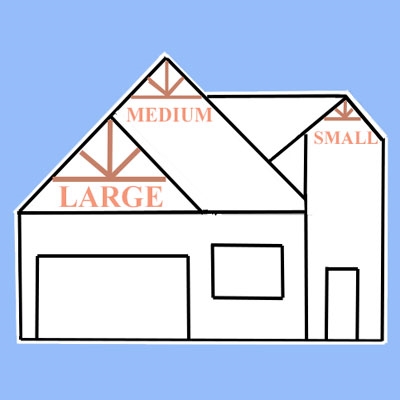 Gable Pediments - Gable Decorations
Gable decorations are sometimes referred to as gable pediments or decorative gable trusses. These faux wood arches made of solid cedar beams are a great way to add enhance the look of your home. A gable roof is an A-frame shaped roof that slopes at an angle to allow water, melting snow, and sleet to run off. Gable roofs typically only have triangle-shaped slopes that extend from the bottom to the peak of its ridge, which is called the pitch. It is this type of roof that our wood gable accents are best suited. Cedar wooden gable accents are installed behind the eaves of the gable using a mounting board that frames it out and hits the studs hidden behind the soffit. If your soffit is already finished, you will need to locate the studs behind the soffit in order to attach the gable to your roof.

Another different, but common, type of roofing structure for homes is dormers. A dormer is a part of a residential house where a small window with a dedicated roof over it extends out from the house. Our small cedar gable decorations are the perfect craftsman detail to install inside these as well to make them more ornate, but do measure and make sure you are ordering a size that will fit. No matter the details, Flower Window Boxes, Inc. has you covered with decorative cedar accents for whichever roofing style you have. Give us a call to get a custom quote or request help for your next millworks project! Our faux roof truss accents and gable pediments are for decoration only and not meant to hold the roof up, but instead for small amounts of support and to add decor to an existing roof overhang.