Fall Window Box Flowers
When the rest of the yard is beginning to look a little worn out in the fall, colorful fall window boxes and outdoor planters in front of the house make for a welcoming entrance. Fall is a nice time to switch out summer annuals in your window box for something more seasonally appropriate. Mixing seasonal favorites like kale and mums with other plants that look spectacular in the fall, such as grasses, is one of the greatest ways to do this. We enjoy adding decorative gourds to our fall window boxes to provide even more seasonal flair. In this article we will discuss the best fall window box flowers.


Designing Lovely Fall Window Boxes

It's a good idea to work with a color scheme to guide you in choosing the ideal plants, colors, and textures for stunning window box designs. By doing this, you can be sure to produce lovely fall window boxes that you can enjoy up until the arrival of the cold weather. Symmetry in your arrangements is a simple place for novices and seasoned gardeners alike to start when thinking of fall window box ideas. If you're feeling more daring, select unusual plants and arrange them in an asymmetrical arrangement. Your two or three largest plants should go in first. Check how the window box appears from the front as you begin to arrange your plants, then rotate your focal plants till you find their best side.

Vines and Fillers
Trailing sweet potato vine, English ivy, and creeping Jenny are great vines that can be used in the front of the box as trailing greenery that will stay green in the fall. Fill up the area surrounding your primary plants with a few smaller plants after you've set them up. Even some perennials with vivid foliage can be suitable. Don't be afraid to crowd the plants a little to give the appearance of a complete display.

Purple, White, and Orange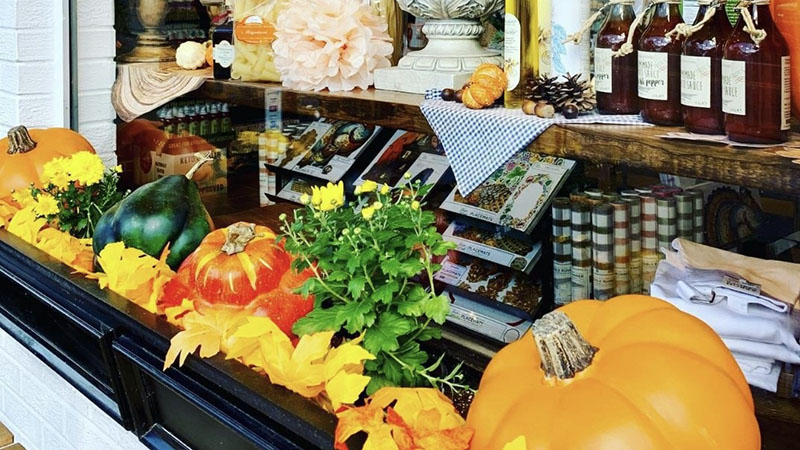 Chrysanthemums, various kinds of ornamental kale and cabbage, white pumpkins, and pale gourds can be used to make a gorgeous lavender/purple and white fall window box. Purple and orange pansies, white and purple million bells, and alyssum are great filler of small flowers that can help fill out the box. For fewer or bigger flowers, orange marigolds are a great addition to a fall window box.

Pumpkins all the way
Because of how hardy they are, chrysanthemums, pansies, cabbage, and pumpkins are widely utilized in the fall. You can experiment with the colors they all come in to find the combinations that best suit your taste and your house. In a lengthy window box, you can arrange gourds and pumpkins in different patterns, hues, and shapes. Arborvitae and evergreens are tucked in to soften the appearance and prepare for winter. Add a couple of little gourds and miniature pumpkins with lovely colors and textures to round off your design. Put them in amongst your plants wherever you can find a gap. Another combination is yellow or orange coreopsis, red-stemmed euphorbia, pimply yellow gourds, and cream and orange tiny pumpkins.

Mums, Lavender, and Kale
In your fall window box, use a variety of mums. Mums in deep purple look great as a centerpiece, especially when set beside mums in paler pink-lavender. You can use a combination of orange, yellow, and lavender mums and add stunning deep-purple million bells (Calibrachoa) and a pumpkin. Rich, deep autumnal tones are provided by yellow chrysanthemums, dwarf decorative grasses, and ornamental kale. Snapdragons are tall like purple lavender but instead are red and can make great accents in the back of your window box. Hyacinth is another tall, but thicker purple plant that can be used liked lavender and snapdragons in the back of a window box for height.

Ferns, and Tall Grasses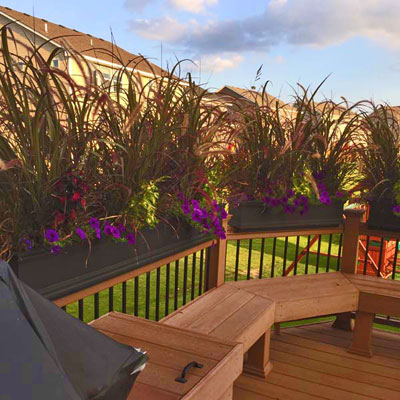 Foxtail fern (asparagus fern) is a great green filler with an interesting shape that adds both height and and depth to a fall window box. For a festive autumnal aesthetic, you can use tall grasses for a daring display in window boxes or railing planters.


Conclusion
Fall window boxes are a great way to bring some color and vitality inside and outside of your home. For more ideas on how to decorate window box in the fall, please visit our gallery. You can also visit our pages for ideas on how to decorate window boxes in spring, how to decorate window boxes in summer, and how to decorate window boxes in winter.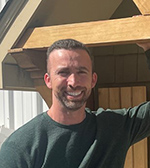 About the Author
Matthew Buquoi is the owner of Flower Window Boxes, Inc., which is one of the largest online flower box companies in the United States. In addition to being the owner, he is also an expert author, and regularly writes about industry topics in the window boxes, planters, exterior shutters, and home and garden industry.